SalesTech: Top Growing Salestech Trends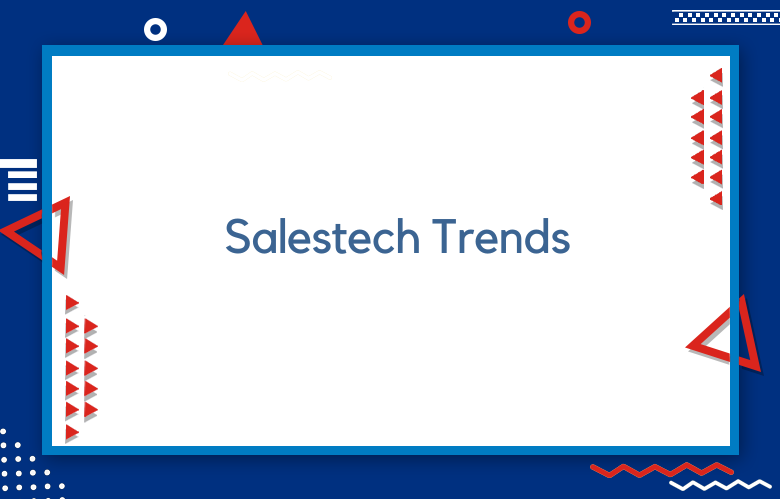 SalesTech is constantly evolving, and as new technologies come onto the scene, sales professionals must be aware of what's hot and what's not. The post will look at some of the top growing sales tech trends. Remember that these are just a few options, so research to find the best solutions.
SalesTech is a quickly growing industry with some new trends to watch. Here are the top three Salestech trends to keep an eye on.
SalesTech: Top Growing Salestech Trends
Artificial Intelligence:
Artificial Intelligence(AI) significantly impacts SalesTech and will only become more prevalent in the coming years. AI can help sales reps automate tasks, make better decisions, and identify potential leads.
Predictive Analytics:
With predictive analytics, sales reps can better predict customer behavior and needs. It allows them to proactively address concerns and provide solutions that customers may not even know they need.
Mobile-First Solutions:
A growing number of sales reps rely on mobile devices to stay.
As a salesperson, you know that technology is constantly evolving and that keeping up with the latest trends is essential. To compete, you must know the latest SalesTech trends.
What is SalesTech?
SalesTech can be many things. It can be a simple sales tracking tool or a complex CRM system. It uses to increase productivity or track customer behavior.
Small businesses or large enterprises can use it. Ultimately, SalesTech is whatever you make of it.
SalesTech is a considerable part of the sales industry. It helps salespeople manage their pipeline, generate leads, and track performance.
SalesTech is constantly evolving, and new applications have developed to help salespeople be more efficient and effective.
SalesTech is a term used to describe the sales process supported by technology.
This sales process can include various things, such as automation, internet communication, and data analysis. Businesses can increase efficiency and accuracy by incorporating technology into the sales process.
Why is Salestech Important?
SalesTech is essential because it helps salespeople to sell more efficiently and effectively. With the right tools and information, salespeople can maximize their time spent selling and increase their overall productivity.
SalesTech can also help salespeople better understand their customers, leading to more successful sales conversations. In short, SalesTech is vital for anyone looking to improve their sales skills and increase their chances of success.
Most businesses nowadays rely on some form of technology to help with sales and productivity.
Sales tech is valuable to any business because it can automate sales tasks and help managers keep track of progress and performance. By using Salestech, companies can improve their bottom line and increase customer satisfaction.
SalesTech provides critical tools and information that sales teams use to increase productivity and effectiveness.
By automating sales processes and providing real-time data, Salestech makes it possible for sales teams to work more efficiently and close more deals.
In addition, Salestech offers several features that can help sales teams improve their performance, such as automatic tracking of customer interactions, automatic logging of call notes, and the ability to create and send documents quickly.
Sales tech is essential for several reasons. Perhaps most importantly, it helps sales teams track customer data and activity. Additionally, it can help automate repetitive tasks, freeing time for selling.
Finally, it provides valuable insights that can help improve sales strategies. In short, sales tech is a powerful tool that can help any organization sell more effectively.
Sales technology is essential because, without it, sales teams could not effectively manage their prospects and customers.
Without sales technology, managing customer relationships would be complicated, if not impossible.
Sales technology provides sales teams with the tools to manage customer interactions effectively.
The ability to track customer interactions understand customer behavior, and segment customers according to their needs is essential for any sales team.
Sales technology also allows sales teams to automate repetitive tasks, freeing their time to focus on more critical studies.
Automating lead assignments, follow-up tasks, and data entry can help sales teams be more efficient and productive.
Sales technology is essential for several reasons. It can help sales teams keep track of their clientele, manage their sales pipeline effectively, and close deals quickly.
In addition, sales tech can also help automate repetitive tasks, freeing time for salespeople to focus on more critical studies.
Sales tech is essential for several reasons. It helps businesses track customer data, identify sales patterns, and improve communication.
Businesses can use sales tech to improve their strategies and increase overall sales. In addition, sales tech can help companies automate their sales processes and reduce the need for manual data entry.
Types of SalesTech
SalesTech refers to the technology sales teams use to increase productivity and efficiency. Common types of SalesTech include customer relationship management (CRM) software, Lead management software, and sales enablement platforms.
SalesTech can encompass a lot of different things. There are tools to help with CRM, pipeline management, sales forecasting, and more. Each company must determine what type of SalesTech they need based on their sales process and data.
SalesTech is a category of technology that helps sales teams increase efficiency and close more deals. Examples of SalesTech include customer relationship management (CRM), lead management, and sales acceleration software.
SalesTech helps sales representatives close deals faster by automating repetitive tasks like prospecting and data entry.
SalesTech can automate repetitive tasks for sales representatives, such as prospecting and data entry, to help them close deals faster.
SalesTech can use customer data to personalize the sales pitch, boost efficiency outreach and follow-up, and automate repetitive processes.
Some examples of SalesTech are customer relationship management (CRM), sales intelligence, and sales productivity software.
SalesTech can give you better insights into understanding your customer's needs and pain points.
It can also help you craft more personalized and relevant messages that resonate with your buyer.
In addition, SalesTech can automate your sales process so you can focus on the activities that will drive the most significant results.
SalesTech can be used to increase sales and productivity. There are many types of SalesTech, including customer relationship management (CRM) systems; SalesTech can also be used to improve customer service and salesforce automation (SFA) systems.
SalesTech encompasses many tools and technologies to help sales teams boost productivity, close more deals, and improve customer relationships.
Some common types of SalesTech include CRM software, sales intelligence tools, and customer communication management platforms.
SalesTech can help sales teams in various ways, from automating mundane tasks to providing real-time insights into customer behavior.
By leveraging the right SalesTech solutions, businesses can give their sales teams a competitive edge and drive more revenue.
Top Growing Salestech Trends
There are many emerging trends in the sales tech industry. Here are some of the top growing trends:
Automation:
More sales teams are using automation to increase efficiency and close more deals.
Data-Driven Decision-Making:
Sales teams rely more on data than ever to decide about prospects and customers.
Account-Based Selling:
Sales teams are focused on selling to specific accounts rather than individual leads.
The Rise of Social Selling:
Social media plays a more significant role in sales, connecting many teams with prospects and customers.
Cloud-based solutions:
These days, more and more businesses are moving to the cloud. Sales tech solutions based in the cloud offer many advantages, such as increased flexibility and scalability.
Artificial intelligence:
Artificial intelligence revolutionizes sales by helping companies automate repetitive tasks and do more with fewer data.
Mobile technologies:
Mobile technologies are becoming increasingly important in the sales world. With mobile apps and other solutions, salespeople can stay connected and productive even on the go.
Many emerging sales technologies are worth keeping an eye on. Here are some of the top growing trends:
Sales Engagement Platforms:
These platforms help Sales teams manage customer interactions and data.
Analytics and Reporting Tools:
These tools help Sales teams track their performance and progress.
Enterprise Resource Planning (ERP) Systems:
ERP systems help businesses manage their resources and data.
A trend toward automation:
Automation is taking over many aspects of sales, from Lead Scoring to Order Fulfillment.
Integrated systems:
The newest generation of Salestech systems designs to integrate seamlessly with CRM and ERP systems.
Analytics:
Data analytics is increasingly vital in the Salestech world, as it helps businesses to make better decisions and track results.
Virtual reality (VR) and augmented reality (AR) use in sales presentations and product demonstrations.
Data visualization is increasingly important in helping sales teams see patterns and opportunities.
Big data:
With more data available than ever, SalesTech tools are improving at helping sales teams analyze and use that data to close deals.
Mobile apps:
More and more salespeople use mobile apps to stay connected with their customers and prospects.
Social media:
Social media plays a vital role in sales, as it uses for prospecting, building relationships, and more.
Productivity tools:
There is a growing trend of sales productivity tools that aim to help sales teams work more efficiently. These tools can automate tasks, provide real-time data and analytics, and connect to other business apps to help streamline workflows.
Cloud technologies:
Cloud-based sales technologies are becoming more popular as businesses adopt cloud computing. Cloud technologies offer flexibility, scalability, and convenient access to data and applications from any device.
How to Properly Use Sales Technology
Sales technology constantly evolves, and keeping up with the latest changes can be challenging. That's why knowing how to use sales technology properly is essential. You can sell more effectively and efficiently by understanding sales technology's different features and capabilities. Here are some points to properly using sales technology:
Please stay current:
Sales technology constantly changes, so staying updated on the latest changes is essential. Take advantage of new features and capabilities and sell more effectively.
Sales technology is a vast and ever-changing landscape with new tools and platforms in the challenging latest trends and knowing how to use them properly.
We've put together this guide on properly using sales technology. From figuring out which tools are right for your business to troubleshooting common problems, we cover everything to get the most out of your sales tech stack.
Sales technology can be an excellent asset for any business. However, knowing how to use sales techniques properly is essential to get the most out of it. Here are some points that explain how to use sales technology properly:
Make sure you have a clear understanding of your goals and objectives. Without a clear goal, you cannot utilize sales technology properly.
Understand your audience and target market. It helps you choose the right sales technology for your needs.
Don't be afraid to experiment. Try different sales technologies to see which works best for you and your business.
Understand your buyer persona and what they are looking for
Have a plan for how you will use sales techniques to reach your buyers
Monitor your results and alter your strategy as needed
By following these guidelines, you can ensure that you use sales technology effectively and achieve the best results for your business.
How to Choose the Right SalesTech
Sales technology constantly evolves, and keeping up with the latest trends can be challenging. So how do you choose the right SalesTech for your business? Here are a few things to consider:
How will the technology help you reach your sales goals?
Is it user-friendly and easy to implement?
How does the ROI look?
Will it give you the data and insights you need to make better decisions?
Take some time researching your options and making sure you choose the best SalesTech for your business. It might be the difference between hitting your targets and falling short.
Choosing the right SalesTech can seem like a daunting task. There are many options, and knowing which is the best fit for your business is challenging. You can remember critical things to help you make the right decision.
Top Recommendations for Using Salestech Right
Are you looking for ways to get the most out of your Salestech investment? Here are our top recommendations:
Ensure you have a clear idea of your goals. What do you want to achieve with Salestech? Getting the most out of the tool can be challenging without a clear goal.
Work with a partner who understands Salestech. Whether a consultant or someone on your team, it's essential to have someone who can help you navigate the tool and maximize its potential.
Use Salestech to its full potential. Don't be afraid to search all the features and options available.
Get to know the features and tools available. Spending time familiarizing yourself with the platform can go a long way.
Utilize shortcuts and automation. Use the capabilities of Salestech to your advantage and automate repetitive tasks.
Stay organized. Stay on top of your sales goals and objectives by keeping meticulous records.
Keep your team in sync. If you're working with a sales team, ensure everyone is on the same page by utilizing Salestech's collaboration features.
Make sure you clearly understand your objectives before implementing SalesTech.
Don't try too much at once – stagger your goals and roll out features gradually.
Closely monitor adoption rates and usage patterns, and make changes accordingly.
Download the mobile app so you can access Salestech on the go.
Use the data import feature to keep your information organized and up to date.
Use the "Notes" section to keep track of essential details about your customers.
Set up custom reports to get detailed insights into your sales process.
Conclusion
Although many sales technologies are on the market, some will continue to grow in popularity while others will fade away. Those focusing on engagement, relationship building, and personalization will likely be among the most successful.
Contact us today to help implement these SalesTech trends into your business!