Where can You Find a Social Media Reporting Analyst?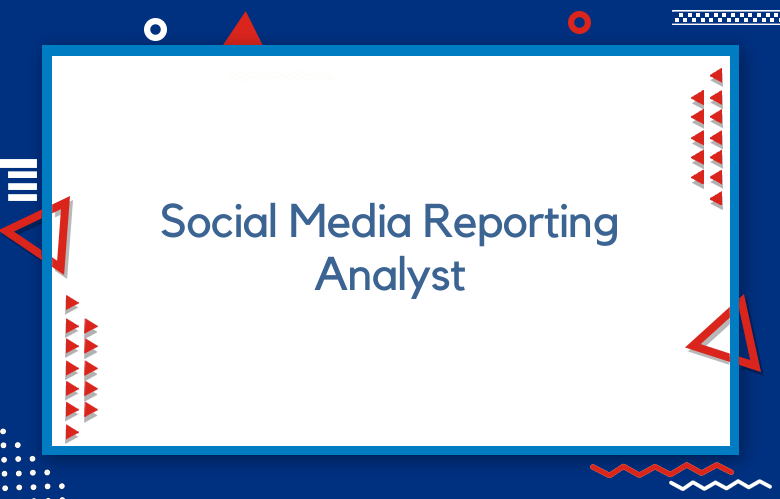 Social media has become a vital part of business marketing. It is no longer just a platform for social interaction but has grown to offer businesses much more than that. This expanding role of social media has contributed to the growth of job opportunities in social media analytics. A social media reporting analyst is one such position that has emerged recently.
So, where can one find a social media reporting analyst to enhance their business? Let's discover where you can find the best social media reporting analysts to grow your brand.
Social media is now essential to every business operation, given its potential to reach millions of people online.
Thus, it's unsurprising that most businesses today rely on social media reporting analysts to monitor their social media presence and measure the impact of their campaigns. But where exactly can you find a social media reporting analyst? Keep reading to find out.
How to Post a Social Media Analyst Job: Free and Easy Job Board Posting
Posting a social media analyst job is crucial in attracting the right talents to your team. With the ever-growing importance of social media in business, hiring a skilled social media analyst can be a game-changer for your company's performance.
Fortunately, posting a job ad for a social media analyst has always been challenging with the availability of free and easy job board postings.
When creating a social media analyst job posting, it is essential to provide potential candidates with the necessary information about the role, responsibilities, qualifications, and expectations.
This can include details such as the specific social media platforms the analyst will be working with, the type of content created or analyzed, and the metrics the analyst will measure.
Moreover, it is essential to describe the required skills and qualifications, such as proficiency in social media analytics tools, experience in data analysis, and familiarity with relevant industry trends.
Comprehensive Insights into Brand Performance on Social Media
Social media has transformed how businesses promote their brand and interact with customers. As a result, having a comprehensive understanding of brand performance on social media has become increasingly crucial for companies to stay ahead of the competition.
One vital metric businesses can use to measure their brand performance on social media is engagement rates. This includes likes, comments, shares, and overall interactions with content posted on social media platforms.
By monitoring engagement rates, businesses can determine which content types resonate most with their audience and adjust their social media strategy accordingly.
Analyzing Brand Reach and Engagement on Social Channels
In today's digital age, social media platforms have powerful marketing tools that allow brands to reach and engage with their target audience more effectively.
However, not all brands successfully utilize these tools to their full potential, and as a result, they fail to achieve their desired reach and engagement on social channels.
To analyze brand reach and engagement on social channels, brands need to use data analytics tools systematically and regularly monitor their performance.
By doing so, they can gain insights into the effectiveness of their social media marketing campaigns and make the necessary adjustments to improve their performance.
Understanding Competitive Standing on Social Platforms
Understanding the competitive standing on social platforms has become an indispensable aspect of brand management.
Social media has become a crucial tool for businesses, serving as an effective platform for connecting with customers, gaining insights into their preferences, and building brand awareness.
As such, it has become imperative for businesses to adopt strategies that foster their competitive edge on these platforms.
One crucial factor that determines the competitive standing of brands on social media is their audience size and engagement level.
The size of a brand's audience on social media platforms plays a significant role in determining the level of visibility and reach it enjoys.
While it is essential to have a large following, it is equally crucial to have an engaged audience that interacts with the brand's posts, shares its content, and promotes its products and services.
Generating Content and Campaign Ideas from Competitors
Generating content and campaign ideas from competitors is a crucial strategy for staying ahead of the game in your industry. By analyzing your competitors' content and campaigns, you can gain valuable insight into what engages your target audience and what types of messaging resonate with them.
To get started, begin by identifying your top competitors in your industry. This can be done by searching for keywords related to your business and seeing which companies consistently rank at the top of search engine results pages. Once you have a list of your key competitors, begin analyzing their content and campaigns.
Look for themes and trends that consistently appear in your competitors' messaging. What types of content are they producing? Are they primarily focused on social media updates or video content? What topics do they cover, and what messaging is being emphasized?
Planning Media Spends for Better Brand Metrics on Social Media
In today's digital age, social media platforms have become an integral part of marketing and advertising strategies for businesses of all sizes.
To strengthen brand awareness, improve customer engagement, and boost sales, companies need to craft compelling, well-planned media spending specifically tailored to their target audience on social media.
One of the critical factors that should be considered when planning your social media spending is the social media platform of your choice.
Each platform has unique features, demographics, and algorithms to consider. For instance, Instagram is more visually oriented and popular among younger users, while LinkedIn is known for its professional appeal and is often used by businesses and B2B companies.
Social Media Analyst Job Description: Requirements, Responsibilities, and Skills
Bachelor's Degree
A social media analyst typically requires a bachelor's degree in marketing, communications, or a related field. This degree will provide the necessary knowledge and skills for the job, such as understanding how to use various social media platforms and analyze data. A bachelor's degree may also benefit those seeking a social media management career.
Analytical Skills
Social media analysts must have strong analytical skills to analyze data and draw meaningful conclusions effectively.
They should be able to interpret data quickly and accurately to identify trends and make recommendations based on their findings. They should be able to think critically about the data they are presented with and identify potential problems or opportunities.
Communication Skills
Social media analysts must also have excellent communication skills to communicate effectively with clients and other stakeholders. They should be able to explain complex concepts in simple terms and present their findings clearly and concisely.
They should be comfortable working with people from different backgrounds and cultures to ensure that all parties understand the presented information.
Technical Skills
Social media analysts must also possess strong technical skills to use software programs such as Microsoft Excel, SPSS (Statistical Package for the Social Sciences), Tableau, or Adobe Photoshop/Illustrator/InDesign.
They should also have experience using various social media platforms such as Facebook, Twitter, Instagram, YouTube, etc., as well as experience using web analytics tools such as Google Analytics or Adobe Analytics.
Project Management Skills
Social media analysts must also possess strong project management skills to manage multiple projects simultaneously while staying organized and ensuring deadlines are met on time.
They should be able to prioritize tasks efficiently while maintaining attention to detail throughout the entire process of each project assigned to them.
Research Skills
Social media analysts must also have strong research skills to stay up-to-date on industry trends and best practices related to their field.
They should be familiar with various research methods such as surveys, interviews, focus groups, etc., which can help them gain valuable insights into their target audience's needs and wants regarding social media campaigns or strategies implemented by their company or clientele base.
Creative Thinking Skills
Social media analysts must also possess creative thinking skills to develop innovative solutions that can help improve existing strategies or create new ones to increase brand awareness among their target audience(s).
They should be able to think outside the box when coming up with ideas for campaigns that will engage users on various social platforms while staying within budget limitations set by the company or clientele base they are working for.
Time Management Skills
Social media analysts must possess excellent time management skills since they often juggle multiple projects while meeting tight deadlines set by their employer or the clientele base they are working for. In addition, they should be able to remain focused on completing tasks without getting distracted by other activities during work hours.
Social Media Analyst: Monitoring Strategies and Campaigns
As a social media analyst, it is crucial to implement effective monitoring strategies and campaigns to stay on top of the constantly changing social media landscape. With the vast amount of data and information available, it is essential to sift through the noise to gather valuable insights to inform business decisions.
Monitoring strategies involve tracking brand mentions, conversations, and trends across various social media platforms.
This allows analysts to identify opportunities to engage with customers and address any issues that arise in real-time. Social media monitoring can help track the effectiveness of marketing campaigns, measure sentiment, and identify key influencers in the market.
Skills Needed for a Social Media Analyst: SEO Expertise and Tech-Savviness
In today's digital age, social media platforms have become a primary source of information and communication for people worldwide. With the ever-increasing usage of social media platforms, businesses are also leveraging these platforms to connect with their target audiences and increase their brand visibility.
This is where the role of a social media analyst comes into play. A social media analyst is responsible for monitoring and analyzing social media trends, tracking the performance of social media campaigns, and providing actionable insights for improving social media presence.
To be a successful social media analyst, one must possess specific skills and expertise. The first skill that a social media analyst must have is search engine optimization (SEO) expertise.
SEO is optimizing online content, including social media posts, to improve its ranking on search engine results pages. This is crucial for increasing brand visibility and reaching a wider audience.
Generate Unique Job Descriptions with AI: Social Media Analyst Role
As social media platforms continue to shape the way individuals and businesses connect, the role of a Social Media Analyst has emerged as an essential component of any organization's digital marketing strategy.
Using Artificial Intelligence (AI), these professionals are responsible for crafting unique social media strategies that increase brand visibility, generate leads, and drive engagement.
As a Social Media Analyst, your job is to thoroughly understand the client's brand, target audience, and business objectives.
AI algorithms help you track consumer behavior and craft data-driven strategies that resonate with your target audience. You will analyze social media trends, monitor online conversations, and provide real-time insights that inform decision-making.
Conclusion
The job market for social media reporting analysts is ever-growing. The demand for people specialized in social media reporting analytics is increasing as businesses look to gauge and optimize their digital marketing campaigns.
There is no single way to find the best-fit social media reporting analyst for your business, but those mentioned above are the best ways to kick-start your search. Finding the right candidate for this role can jump-start your business success!
Finding a social media reporting analyst who understands how to interpret social media data holistically. Hiring the right analyst can help you get more out of your social media strategy, make more informed decisions, and ultimately drive better business results.
Whether you choose to engage a freelance professional or a social media marketing agency to help you, take your time and research your options to ensure you hire the right person for your needs.