Ultimate Strategies for Driving Traffic to Your Website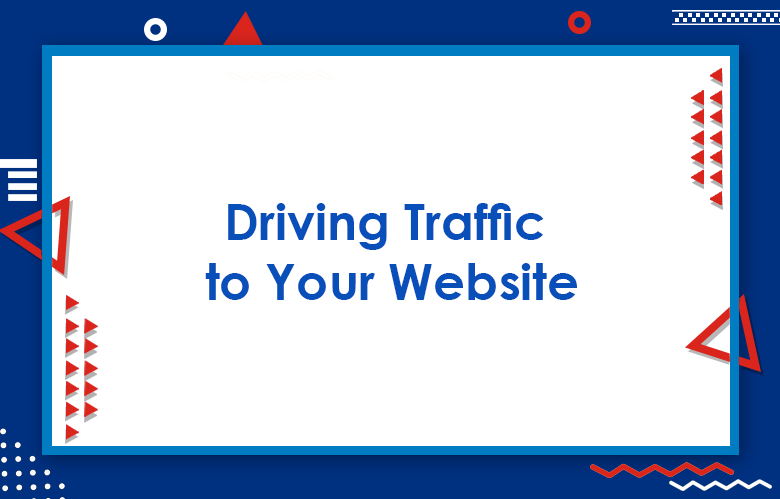 Any digital marketer or business owner aims to have more traffic on their Website. Agreed.
Is it just enough to create the content, leave it, and expect to receive the traffic on its own? No, there are a few ways to increase traffic to the Website. Most of these are undisputed ways and are free.
Traffic generation is hard work. Consistently generating new traffic for your blog is a sign that you're doing something right. If you want to create more traffic to your site, here are some proven strategies to help you do it.
Bloggers who generate a lot of traffic do so by consistently producing high-quality content.
This means ensuring your blog content is continually high on search engine results pages (SERPs).
Strategies for Driving Traffic to Your Website
Some practical ways to increase traffic to a website are paid search, social media ads, and display advertising.
Paid channels that help drive traffic to the site have pros and cons, and choose what you feel will help you reach the goal.
Target high commercial intent keywords to increase sales along with more traffic.
Helping people to find the content is as essential as producing the content. Promote the Website on social media channels.
Use Twitter to promote the Website with short links.
Promote on Google+ so that the Website shows up in personalized search results.
Pinterest and Instagram social sites are suitable for B2C brand promotion.
Content marketing success has no magic formula. Make the content appealing, and remember that data-driven pieces and videos are more effective in driving traffic.
Optimize the content for search engines. Make the most of the text.
Create internal links to newly published content.
Another way to drive traffic to a website is to target long-tail keywords.
Though guest blogging seems like an old way, this helps increase site traffic.
Besides writing for other blogs, website owners can invite guests to blog for them. Expect new readers on your site when they share the link to their guest article.
LinkedIn is a valuable publishing platform, and posting content regularly helps boost traffic to the site.
Do not neglect traditional methods such as email marketing. This can be a powerful tool to bring new website visitors.
Send emails to inform about the launch of new services or products to help boost traffic.
Ensure that the Website is accessible across various devices, including mobiles.
If the Website is not responsive, the visitors will go elsewhere, and you will lose traffic.
Lower bounce rate by ensuring the Website and the pages load faster.
Build community into the Website to increase traffic.
Use third-party solutions to implement a comment system on the Website.
Comment on industry blogs and sites to make your Website name famous.
Do not, however, leave spam links only in the comments.
Check regularly where the Website is receiving visitors.
Participate in social communities.
Use relevant hashtags and join group discussions on Twitter.
Please answer the questions of the audience in Facebook posts and engage them.
Use social media sites to interact with the fans.
Submit genuinely useful links on sites such as Reddit and see that traffic pour in.
Make video a part of the content marketing strategy.
Visual material is more potent in consumer retention and an excellent way to grab attention.
Webinars are a great way to increase traffic to the site.
Start a forum on the Website to decrease the website bounce rate and increase time on site.
Start a Facebook group.
Write high-converting headlines.
Join blogging communities and network with other bloggers, and cross-promote the content.
Include links to other relevant content on your blog to get an advantage with SEO.
Become a contributor to popular sites and drive target traffic to the Website.
Optimize the existing posts.
Advertising swap also helps to drive traffic.
Post high-quality content regularly and frequently.
The same thing may not work for everyone. Focus on strategies that are working but do not just follow others.
Build personal relationships with other bloggers related to your niche.
Focus on having relevant keywords on the site.
Create a post with the most popular posts on your site.
In the Facebook comments, give links to your Website about page.
Build relationships by joining Facebook or LinkedIn groups related to your industry.
Another way to increase traffic to the Website is to answer questions on sites such as Quora or Yahoo Answers.
Organize content into relevant categories.
Driving Traffic to Your Website using different Strategies
Let's face it. If you want to make money with your blog, you better get it before someone else does. Creating a website and content plan is a good idea before blogging.
Develop a blog
Join Group networks
Continue to add quality material to your blog
Consider web design
Think about Traffic sources
Create your content plan
Ask for it
Use free traffic sources
Create a content calendar
Drive traffic with articles
Use free social media tools to share your content with you
Use your blog to drive traffic
Use social media for your business
Use email marketing effectively
Find linking opportunities
Picking topics that attract your audience
Working with others to develop content
Making guest posts work for you
Promoting your content across the internet
Optimize for search engines
Post on social media frequently
Create quality content
Have exciting and unique web design
Promote your content
Create exceptional content
Optimize your Website
Use social media advertising.
The Traffic Tsunami
Content and Articles
Apps that drive traffic
Keywords and SEO
Website Promotion
Podcasts
Social Media
Newsletters and E-zines
Explore search engine marketing
Build traffic and leads
Build an email list with Constant Contact
Use social media sites like Facebook, Twitter, Instagram, and Pinterest in addition to the other strategies described above.
Use keywords and phrases in headlines.
Embed keywords and phrases in the article.
Reach out to influencers, and ask them to share your content or repost your blog posts directly on their site.
Share your content on other platforms to attract more traffic
Create more content
Build social media following
Promote your Website in forums, magazines, and blogs
Use social media tools to promote your Website
Add SEO to your content
Use social media
Create videos
Make it easy to share your content
Optimize your posts
Interact socially
Use SEO strategies
Write guest blogs
Not receiving enough traffic on Website is a common challenge for any business owner. There is a search for new ways to drive traffic to the site. Some of the above tips may be a quick fix and help generate traffic.