How to Use Subject Matter Experts in Digital Marketing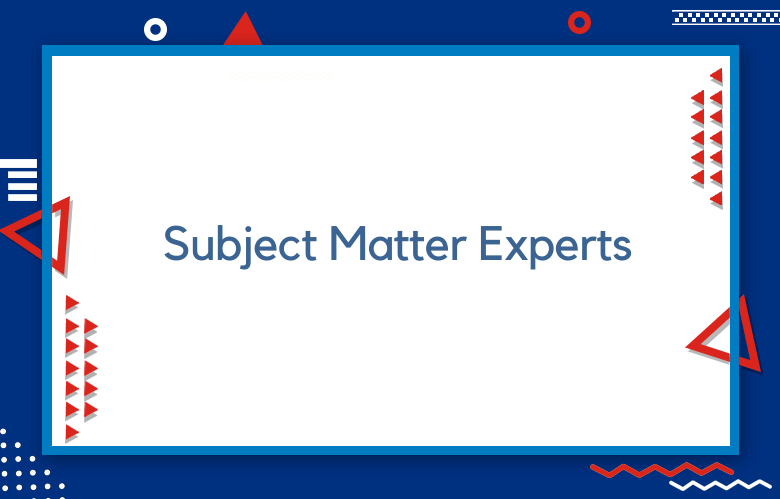 Subject matter experts (SMEs) are a valuable resource for any business, and their knowledge can be especially beneficial in digital marketing. SMEs can help you create relevant and engaging content, improve your SEO strategy, and more. We'll discuss how to use SMEs in your digital marketing efforts. Keep reading to learn more!
Digital marketing is all about creating connections with potential and current customers. It is essential to use various strategies and techniques to make these connections. One process that can be helpful is using subject matter experts.
Subject matter experts can help you create relevant and engaging content. We will discuss how to use subject matter experts in digital marketing. We will also provide tips for finding the right subject matter expert for your needs. Let's get started!
SMEs (Subject Matter Experts) will advise marketing professionals on trending topics in their market and field.
Subject Matter Experts in Digital Marketing
SMEs will be trained to use various tools to create, organize, and share their expertise with others. Then, they engage in dialog with real-time, crowdsourced knowledge and feedback from other experts and their clients, steering their customized conversations as needed.
There will be an interdisciplinary digital marketing profession with broad-based knowledge of marketing and communications, technology, entertainment, and digital media.
SMEs will have predictive analytics capabilities that help them make better marketing decisions.
Experts will curate data and create a narrative explaining their insights. Experts will be data providers, voice Authority, and spread awareness. Experts will be the source of facts and wisdom, and vision.
The SMEs, who may be digital natives, will be the ones with instant information who will set the rules for traditional marketers, who will need to learn to adapt to their new expertise-driven world.
SMEs will be required to transition from their function as information gatherers to synthesize information, understand how to apply it to their customers and become responsible for analytics and interpretation of the data.
SMEs may need to continue to be SMEs to stay competitive. They must continue developing their in-house and outsourced service, brand, and consulting expertise by sharpening their skill sets, maintaining and growing their intellectual capital, and developing up-to-date business and technical knowledge about these current and future trends.
Subject Matter Experts will be challenged and benefit from the evolution of the research form since the web allows users not to be limited to books and journals.
Subject Matter Experts in Digital Marketing will help design and develop new products and services.
SMEs will rely less and less on analytics for their day-to-day management decisions. Analytics will be more intuitive, interactive, actionable, and helpful in making decisions for minor- and large-scale issues.
Subject Matter Expertise in Digital Marketing will be dominated by Virtual Assistants or Virtual Experts, who have access to all persons, all processes, all sources of information and knowledge across the enterprise, and all of the information, knowledge, cognitive tools, and resources across entire ecosystems.
Experts will create documents, interact via online communities, evaluate reports and images, and develop their expert knowledge bases.
Subject Matter Experts (SMEs) will play an even more critical role in the success of a business. SMEs will continue to provide the know-how, support, and strategic leadership/management that drives the success of digital marketing operations.
However, the future also brings new challenges in technological disruption and data proliferation. Just as the pressure for businesses to be digitally focused is increasing, the complexity of the operation is rising.
Since this business disruption is fast-growing and on the horizon, SMEs have a window of opportunity to determine how to support the organization best but do so with fewer resources. This business disruption has been exacerbated because SMEs are often the unsung heroes of their organizations.
Digital marketing will be highly automated by computers and designed by humans with significant expertise in a specific topic. It will combine the strengths of automated technology and the subject matter expert.
SMEs will provide high-quality and valuable advice to companies that need help in social media marketing, SEO, and internet marketing.
How to Add Authority to Your Digital Marketing Using Subject Matter Experts
A subject matter expert can be a fantastic asset to your business, but knowing how to use them is essential.
The initial way to increase your digital marketing skills is by talking to subject matter experts. These people have been in the industry for years, doing what you're trying to do now.
You can now add Authority to your digital marketing by using subject matter experts.
"When it comes to digital marketing, you need to have an in-depth understanding of the subject matter. You can succeed when you are a specialist with years of experience in this industry and deep knowledge about different online promotion strategies."
Effective digital marketing requires a strong understanding of the audience and communicating with them. This can be difficult for companies that aren't experienced in marketing or haven't been keeping up with trends in technology.
A subject matter expert has extensive knowledge in a particular field. Bloggers can create Authority and trust by having an SME guest post on their blog.
Be sure to cite an expert to add credibility to your digital marketing efforts.
One of the simple ways to find an authority for your digital marketing efforts is by using subject matter experts. These people have experience and knowledge in the field you're trying to reach.
Importance of Subject Matter Experts for Better Digital Marketing
Since the digital world is ever-changing and evolving, it's crucial to hire a subject matter expert to provide quality results.
The digital marketing field's subject matter experts are crucial to creating better websites that appeal to and entice more customers.
Digital marketing is one of the most critical aspects of the business. Specialists can make all the difference in your company's success.
It can succeed if one does not know how to use Digital Marketing effectively.
Digital marketing is not only about analyzing data and reading news. It's more than that; you have to read the latest developments in your industry and understand how they affect it.
Many different skills are needed to run an effective campaign, and without all these other people working together in unison, it's tough for anyone to succeed.
The digital marketing business is a fast-changing world. It has become increasingly important to have an expert handling your online initiatives instead of someone with limited or no experience in this domain.
Having Subject Matter Experts on board is essential when doing Digital Marketing. Many companies mistake hiring people without proper knowledge and experience in this field.
How to Use Subject Matter Experts in Content Marketing
You can find a subject matter expert (SME) at many companies. The best example is you could hire an SEO company to help your business search engine optimization.
Want to find the best ideas for your content marketing strategy? Turn to subject matter experts!
Experts in your content marketing strategy can help you stand out. You'll want to ensure they're authentic and not just shilling for a brand.
Consider using subject matter experts if you're looking for content ideas to build your marketing strategy. They are the best sources of information on any given topic.
A content marketer is a writer who seeks to attract and retain customers for companies through blogs, tweets, videos, and more. A subject matter expert (SME) is someone with knowledge on a specific subject that can be used as information.
How to Integrate Subject Matter Experts into Your Brand Marketing
There are many ways to incorporate subject matter experts (SMEs) into your brand marketing, but you must get the right person to represent your company.
You must include subject matter experts in your brand marketing strategy to create a more personal connection with your audience and provide them with the best possible experience.
To be a good brand marketer, you must know how to incorporate your company's subject matter experts into your marketing initiatives.
Leverage Subject Matter Experts in SaaS Content Marketing
By leveraging subject matter experts, you're ensuring that the content created on your website or blog is engaging, relevant, and aligns with your brand.
"As you lay the foundation of your content marketing strategy, consider giving SMEs a guiding role. They can help ensure that your brand is seen as an expert and thought leader in your industry."
Tips to Collaborate with a Subject Matter Expert in Digital Marketing
Establish a schedule for meetings, calls, and emails with the SME
Create a plan that covers all the points you want to hide in the forum or call
Reach out to them before sending any questions so they can be prepared for your email
Send follow-up emails after each meeting/call
Work out the details of what you need help with and how often they'll be available for consultation.
Create an agenda for the meeting, so both parties know what will be discussed before it starts.
Ask questions throughout the meeting to make sure everything has been covered.
Prioritize any action items or follow-up tasks from the meeting
Discuss the budget with the expert before proceeding
Be open to new ideas and suggestions from the expert, but also be willing to speak up about what you want out of the project
Don't expect overnight results- this is an ongoing process that will take time
Learn about their credentials
Find out what they specialize in and how that will help you
Ask for references from past clients or colleagues
Get a price quote before proceeding with any work
Determine the scope of the project and budget
Communicate with your expert regularly to stay updated on progress and any changes that might be needed.
Be open to new ideas from your expert, but also know when it's time to stick to what you originally agreed upon
Keep track of all correspondence between yourself and your expert
Find a subject matter expert in digital marketing that is knowledgeable
Ask them lots of questions about their work
Please ensure you're on the same page with them before starting any projects together.
Be honest and upfront with your expectations so there are no surprises later on down the road.
Ask for a reference from someone you know who has worked with them
Check out their website to see if they have any testimonials or case studies
Find out what type of work they specialize in and how long they've been doing it for
Determine how much experience they have working with people like you
Contact the expert to see if they are available for freelance work
Work with them to create an agreement that is mutually beneficial and agreeable
Stay in touch with the expert, including through emails or phone calls
Ask questions about what you don't know
Ask the expert to be your mentor, not just an employee
Seek out someone who shares your values and goals
Find someone who has experience in your area of expertise
Ask them for their contact information and ask to set up a meeting with them
Research what they've done before so you know the type of person you're working with
Meet up in person or on Skype, whichever is more convenient for both parties.
Conclusion
We talked about how to use neuroscience in digital marketing. Today, we will explore a different way of using experts for your company – subject matter experts.
These individuals can help you create more targeted content and find ways to increase conversions on your website by utilizing their knowledge of specific industries or topics.
If you need assistance finding an expert in one area that would benefit your business needs, call our team today!