The Rise of Marketing Decision Intelligence: AI-Optimized Marketing Decision Making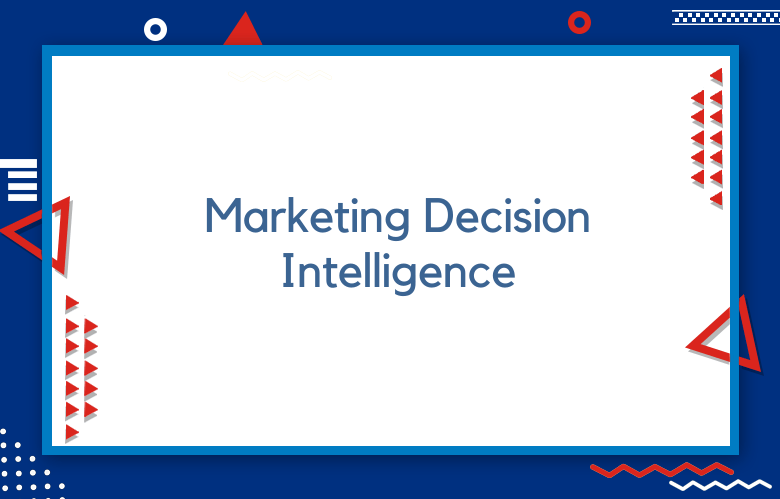 As marketing becomes more data-driven, the need for better decision-making grows. Marketing Decision Intelligence (MDI) is an emerging field that uses artificial intelligence (AI) to optimize marketing decisions.
Marketing Decision Intelligence can help you make better decisions faster and improve your marketing performance. We'll explain what Marketing Decision Intelligence is and how it can benefit your business.
Marketing decision intelligence is on the rise. What is marketing decision intelligence, you ask?
It's the application of artificial intelligence (AI) technologies to optimize marketing decisions.
Through predictive analytics, machine learning, and natural language processing, marketers can make better-informed decisions about allocating resources, what tactics to employ, and how to engage customers.
Marketing decision intelligence can help you identify opportunities and risks that would otherwise be invisible and maximize your return on investment (ROI).
What is Decision Intelligence?
Decision Intelligence is an artificial intelligence solution that allows people to make better decisions. The software works with existing data, easily integrated into your systems.
Decision Intelligence is a new way of looking at decisions. It's about recognizing that you can use the same approach to make decisions for yourself as corporations do.
Decision Intelligence is a process that uses data to make better decisions. It's useful for personal and business situations, and it can be used in any industry.
Decision Intelligence is a method of dealing with uncertainty. It involves using statistics to reason about the future, building models for events similar to those we've experienced in the past, and then drawing conclusions based on these models.
Decision Intelligence is a way to solve business problems by breaking them down into smaller pieces.
Decision intelligence is the ability to derive maximum value from any decision, given your information.
Decision intelligence is a field of study that focuses on the processes and techniques used to make decisions. There are many different types of decision-making, such as financial, strategic, and tactical.
Decision intelligence is a way to make better decisions through artificial intelligence.
What is Marketing Decision Intelligence?
Marketing Decision Intelligence is a way to collect, process, and analyze data about customers.
Marketing Decision Intelligence is the ability to make intelligent, data-driven marketing decisions.
Marketing Decision Intelligence is a solution that uses artificial intelligence to help you make better business decisions.
Marketing Decision Intelligence is a data-driven approach to marketing that relies on customer insights, high-quality data, and advanced analytics.
Marketing Decision Intelligence studies consumer behavior, which helps you understand where consumers will be and what they might buy in a few years.
Marketing Decision Intelligence is a revolutionary way to understand how your customers make purchase decisions.
Marketing Decision Intelligence is a powerful and effective platform that helps you understand your customers, products, channels, and business.
Marketing Decision Intelligence is the science of making data-driven, future-focused marketing decisions. It is a method for marketers to confidently make predictions by combining past experiences with current market data.
AI-Optimized Marketing Decision Making
Prediction engine combines data with state-of-the-art artificial intelligence to optimize marketing decisions for the future.
AI is one of the trending areas in business today, as this technology allows marketers to create automated systems that run 24/7.
Algorithms are the best way to optimize marketing decisions.
One of the most important aspects of a successful business is marketing. Companies use marketing strategies to attract potential customers and increase revenue.
You can use data analytics tools and a chatbot to achieve AI-Optimized Marketing Decision Making.
As we move into the future of marketing, Artificial Intelligence will help us optimize our decision-making and increase ROI.
The marketing strategy of the future will be AI-optimized. Whether a small startup or an established brand, your business can benefit from this new technology and improve your bottom line.
AI-Optimized Marketing Decision Making Best Practices
Review your current marketing strategy
Consider how AI can improve your marketing efforts by reviewing successful case studies, such as that of Capital One and Google's Duplex technology.
Determine what you want to achieve from an AI-optimized approach to marketing, including increased sales conversions or improved customer experience
Commit a budget so that you can invest in AI tools and services
Understand what AI is
Identify the types of AI available to you – predictive, prescriptive, and cognitive.
Understand how each type of AI works and when it should be used
Put together a plan for integrating your current marketing strategy with AI-powered tools
Define objectives
Look at current strategies and assess their effectiveness
Analyze the customer journey
Identify customer personas and target markets
Conduct market research to find out what customers want in a product or service
Make decisions based on data, not assumptions.
Keep up with the latest AI-powered products and services
Know how to use AI for marketing purposes
Understand how your customers behave online
Research what other companies are doing in the space, including competitors and partners
Choose the proper marketing channels to reach your customers
Determine what type of message you want to convey and who it should be aimed at
Research the competition's strategy and tactics, then come up with better ones that will work for you
Track performance data and make adjustments as needed
Define your marketing goals and objectives
Identify the customer segments you want to target
Gather data on your customers' behavior, preferences, and past purchases
Create a list of all possible options for each segment's marketing needs
Evaluate each option based on its cost-effectiveness and level of automation using AI-powered tools like Deep Learning algorithms, Neural Networks, or Natural Language Processing engines
Ensure the AI is trained to optimize for your goals
Be transparent about how you are using AI and what data it has access to
Use a single, centralized platform to manage all of your marketing activities
Regularly review and update the AI's training so that it reflects new changes in your business or industry
Encourage human input from employees who may be able to make decisions more quickly than an AI can
Understand your business goals
Establish a marketing plan and budget
Track data to determine how well you're doing against your goals
Monitor competitors' marketing strategies, including pricing, promotions, and new product introductions
Continuously test new ideas for the best results
Hire a team of data analysts to help you make decisions
Conduct regular research on your competitors and their marketing strategies
Use AI-optimized channels like Facebook, Instagram, and Google Ads to reach customers
Create new content relevant to your target audience's needs and interests.
Understand the basics of AI and machine learning
Get to know your customers by segmenting them into groups based on their behavior.
Use AI-powered tools like Google's Optimize, HubSpot, or Adobe Analytics to help you understand what content is working best for each group.
Create a marketing plan that includes an overarching strategy with short-, medium, and long-term goals.
Conclusion
Marketing Decision Intelligence (MDI) applies artificial intelligence (AI) to optimize marketing decision-making.
It's a rapidly growing field, thanks to the ever-increasing availability of data and the advances in AI technology.
We are experts in Marketing Decision Intelligence, and we can help you harness its power for your organization.
Reach us to learn more information about our Marketing Decision Intelligence Consulting services.