Chief Content Officer: How to Hire the Perfect Chief Content Officer(CCO)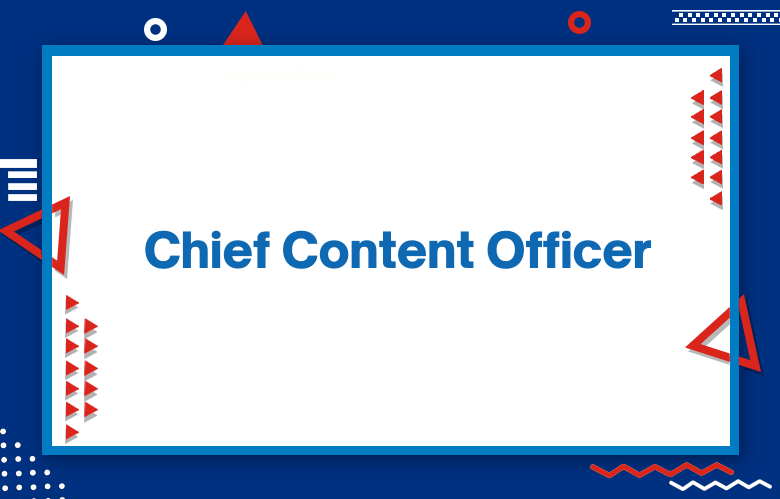 Chief content officers (CCOs) are key players in the enterprise world. They create and manage all of its digital content, from social media to websites and blogs. And this is a difficult task because it requires mastery over many different areas: storytelling, design, marketing, SEO strategy, and more.
That's why you need a chief content officer who can think strategically about meeting your business needs while also executing those ideas with team members across departments.
As a result of the increased competition for skilled talent, many companies hire Chief Content Officers (CCOs) to differentiate themselves from their competitors. The CCO is not just in charge of content management, but they also oversee digital marketing and other areas that will help your company grow.
Surveys show that most people would instead read about what they're interested in than be marketed too aggressively through email or social media campaigns. What does this mean? It means that if you have great content, more people will want to see it! A good CCO can help create quality content, so readers come back time.
The perfect chief content officer is a rare find. It will help if you find someone who has an eye for quality and the ability to motivate writers, editors, designers, and developers into producing engaging content on your website.
The Following are Five Qualities that Makeup the Perfect CCO
Excellent writing skills
Expert knowledge of SEO
Strong design skills
Sound understanding of web development
Creativity in designing new products or services
What is a Chief Content Officer?
A chief content officer is in charge of all the information to customers and potential customers. The role has many responsibilities, including writing articles on new products, creating advertisements for marketing campaigns, and identifying opportunities to expand into other markets.
A Chief Content Officer is an executive who is responsible for a company's content strategy.
A Chief Content Officer is someone who manages a company's content to drive the business forward.
A Chief Content Office is someone who manages the creation of content for a company. The person responsible for this role is usually called in to help create and shape an organization's content strategy and serves as a "chief" editor.
The chief content officer is the person in charge of developing and managing your brand's content strategy. They're responsible for everything from hiring writers to ensuring that its tone stays consistent across all publishing channels.
Why You Need to Hire a Chief Content Officer
The importance of content marketing is increasing. Content makes your company look professional, and it's an excellent way to increase brand awareness and sales. A Chief Content Officer will help you strategize how to create content that keeps your audience engaged, grows awareness.
Content marketing is the best way to improve your business.
Here's one of the biggest reasons you should hire a chief content officer: they're focused on results.
A chief content officer (CCO) oversees all the content for a company, including blogs and social media. A CCO can help improve your brand's online presence by creating and distributing high-quality content to attract new customers.
Why do Companies Need a Chief Content Officer?
The CCO is the executive in charge of all content for a company. They make sure that everything is relevant and up-to-date, so customers don't have to worry about irrelevant information when they're looking at your site or to use your app.
The Chief Content Officer is responsible for managing the company's content. They oversee writers, editors, and designers ensure that they create high-quality content.
A Chief Content Officer is a valuable resource for companies because they help manage the content and media created by other departments.
Because content is the lifeblood of any business, it's what leads people to buy from you, and it let them come back for more.
Companies need a Chief Content Officer to manage all of their online content. Besides the apparent benefits, having this position will make your company seem more modern and relevant in today's fast-paced world.
Ways to Hire the Perfect Chief Content Officer
When you're looking for the best CCO, there are a few things to keep in mind. First of all, they have to be an expert at content creation. They have to know how to write and edit content well because it's what they.
The best Chief Content Officers are right here, ready to help you grow your business!
There are many ways to consider when hiring a chief content officer. Looking for someone who has experience writing books, blogs, and articles is important because this person will be responsible for creating high-quality content that attracts visitors to your site.
The key to hiring a good Chief Content Officer is understanding the responsibilities and attributes of the position. Fortunately, our article will provide you with everything you need to know so that your hire isn't just perfect – they're ideal!
Hiring the right person for your content marketing can be difficult. But there are a few essential things you should keep in mind when looking for someone to hire and work with.
The Rise of the Chief Content Officer
The chief content officer, or CCO, is a person who is responsible for the company's content.
The Chief Content Officer – it's a big title that has become an integral part of many organizations. In the current years, more and more companies have begun to realize the importance of engaging audiences with quality content and how this can help them achieve their business goals.
The rise of the Chief Content Officer can be attributed to efforts by companies like IBM, which has had a CCO since 2001.
The Chief Content Officer: A Leader In The New Age Of Information
The Role of a Chief Content Officer?
The Chief Content Officer is the person in a company who oversees all of the content that gets published. They're responsible for creating goals and measuring results on how each piece of content performs.
The Chief Content Officer focuses on creating and distributing compelling content.
The Chief Content Officer oversees the content on a platform, ensuring it is relevant and appealing. They also monitor how users interact with the material to figure out what they like and dislike.
The Chief Content Officer leads the team that creates content for public consumption. The CCO often works with creative agencies and PR firms to help with a media plan and get the right message out.
A Chief Content Officer is someone who oversees the content of a company. The only goal is to make sure that every piece of content they produce is consistent and on-brand.
Chief Content Officer Roles and Responsibilities
Create and maintain a content strategy
Develop content for website, social media channels, blogs, newsletters, etc.
Handle all editorial aspects of the business
Manage writers and other contributors in the company
Review analytics to see where your audience is coming from
Create and curate content
Manage social media accounts for company profile
Communicate with writers, editors, designers, developers to create cohesive marketing messages that align with the company's goals
Research industry trends and competitors to stay up-to-date on industry developments.
Define the content strategy
Develop a content calendar
Create editorial guidelines
Manage writers and editors for your company's blog, social media accounts, newsletters, etc.
Work with marketing teams to create campaigns that promote content from your company.
Define the company's content strategy
Manage all content productions and distribution for the company
Ensure that all corporate communications are consistent across channels
Build relationships with key partners to create a network of mutually beneficial partnerships
The Chief Content Officer is responsible for all digital content
They are in charge of the company's blog and social media platforms
They work closely with designers, editors, and writers to produce quality content that will engage readers/viewers
Create and execute marketing strategies
Manage the content calendar
Develop a content strategy for all channels, including blogs, social media, videos, and webinars
Monitor analytics to determine which types of content are most successful in engaging customers
Determine the content strategy for a company
Create and execute editorial calendars to ensure consistency in messaging and quality of content
Oversee all marketing communications, including social media, email campaigns, blog posts, videos, infographics, etc.
Report on performance metrics (traffic sources and engagement) to identify opportunities for growth
Manage and maintain the company's website
Create a content strategy that aligns with business goals, marketing objectives, and customer needs
Develop original content for the website while also leveraging third-party content sources where appropriate
Work with a team to research and produce high-quality video or audio pieces for distribution on social media channels.
Collaborate with other departments to develop new products or services
Develop an editorial calendar and publish content
Create, maintain, and update the site's social media presence
Manage all blog posts for the company
Collaborate with the marketing team to produce high-quality online video content
Prepare multimedia assets, including images, audio clips, graphics, text, etc.
Develop and implement content strategy
Work with editorial teams to create high-quality content
Define the voice of the brand and establish a tone for all communications
Identify trends in the industry and stay on top of current events that are relevant to your company's field
Oversee social media channels, including Facebook, Twitter, Instagram, etc., as well as any other digital platforms you use.
Conclusion
A Chief Content Officer is the key to your content marketing success. They are responsible for generating, organizing, and executing all of your company's digital communications at every stage in the customer journey.
This includes things like website design, social media posts, blog articles, or podcasts. But how do you hire a CCO? What qualifications should they have? This article will display an overview of what makes up a successful candidate, as well as some tips on where to find them! Contact me for chief content officer consulting services!