Amazon Marketplace Strategist: How To Sell On The Amazon Marketplace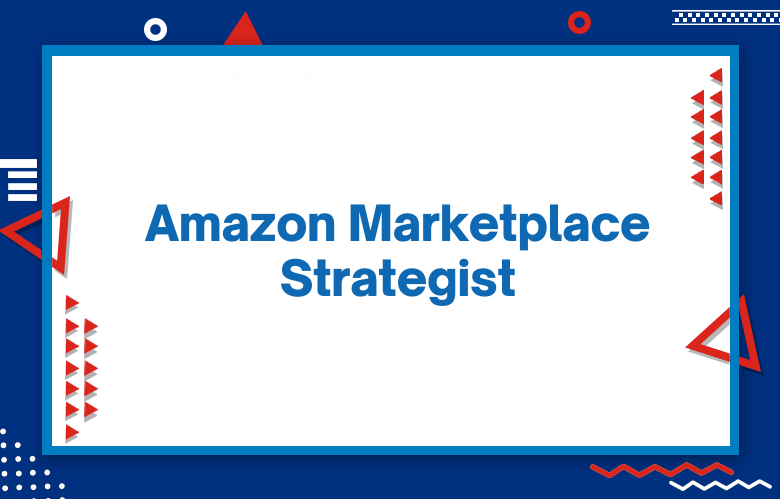 Do you want to learn about the best strategies for Amazon Marketplace? The truth is that there are many different ways to make money on Amazon. You can sell your products or become an Amazon marketplace strategist. What does this mean exactly? Find out in this article!
However, a lack of knowledge about using Amazon can lead to lost potential customers and revenue. This post will let you find the basics of selling on Amazon Marketplaces, from finding your product's category to optimizing your listings for the best results.
Who is an Amazon Marketplace Strategist?
The Amazon Marketplace Strategist is a person that works with merchants to ensure they have the tools and knowledge needed for success.
A successful Amazon Marketplace Strategist will have an entrepreneurial attitude, a strong work ethic, and the ability to absorb new information quickly.
A marketplace strategist is a person who identifies potential opportunities and ways to mitigate risks in the Amazon Marketplace.
Amazon Marketplace Strategists help brands make more money by using Amazon as a sales platform.
I am an Amazon Marketplace Strategist. I help people grow their businesses through data and technology to optimize them for maximum sales, profit, and customer satisfaction.
How To Sell On The Amazon Marketplace
Selling on the Amazon Marketplace is easy. You have to choose a product, price it up, and ship it out when someone buys it.
Selling on the Amazon Marketplace is a great way to increase your revenue. It's convenient, and there are no upfront costs.
Now that you have the basics of selling on Amazon, let's dive into some advanced tips and tricks. These are great if you've already established yourself as a seller but want to make improvements or if you're starting out and not sure what.
What You Need To Know About Selling On The Amazon Marketplace
You need a business account if you want to sell on the Amazon marketplace. You can open one for free with your regular Amazon account, and it doesn't require any selling history. The next step is deciding what product to sell.
An Amazon store can be a great way to sell your products online, but there are some things you should understand before starting your store.
Why do you need an expert Amazon Marketplace Strategist?
A marketplace strategist can help you outsmart your competition, increase sales, and turn your Amazon store into a well-oiled machine.
To be a successful Amazon seller, you must work with someone who knows what they're doing. A marketplace strategist can help you optimize your business.
I am an expert Amazon marketplace strategist. I can help you get more sales through the Amazon platform.
It would help if you had an Amazon Marketplace Strategist because they can help you reach millions of customers, increasing your sales.
Amazon is the most powerful platform globally and continues growingiferate. Artificial intelligence (AI) advancements will further drive the eCommerce transformation, so intelligent retailers are partnering with Amazon Marketplaces Strategists who can plan their entire retail strategy for the next 20 years.
A strategic partnership with an Amazon Marketplace Strategist gives you exclusive access to a team of experts with intimate knowledge of changes coming to eCommerce over time.
They understand how customers shop on marketplace channels and what works and what doesn't. With their expertise, you'll have a superior competitive advantage as market volatility increases.
Amazon is a great competitor in the Marketplace, where many sellers compete for space, and only a single merchant can reach the top of the listing. Bragging about individual products or services will not give your business an edge over competitors without a strategic approach to market and selling on Amazon.
Having professional representation active in this dynamic Marketplace will ensure that you get competitive prices and have access to inventory from reputable suppliers quickly.
Professional marketing strategies such as SEO, social media, PPC campaigns, and backlinks will help you stay at the top of listings with a high-quality search engine ranking for greater exposure, with more potential customers looking at each listing on Amazon than ever before!
What are the Secrets of Amazon's Winning Marketplace Strategy
Here are a few secrets and tips to help you with your Amazon Selling Strategy.
Create quality listings right when listing on Amazon
Sell what is new and trending in the Marketplace (Best Seller)
Provide customer support to all customers through email or other messages; that way, they have a tracking number for the order and can manage their orders efficiently without calling customer service; this will also let them know if there is a problem with the order
Offer expedited shipping whenever possible to meet customer needs at any time of the day
At least once a week, offer reviews or giveaways for products that customers care about because it helps increase awareness of products, increasing sales, leads, and views.
Amazon took advantage of its secrecy and the Internet's potential for viral marketing to promote its retail business with many free trials before other retailers could react.
They developed a proprietary, easy-to-use website that offered customers the widest variety of items in every category available online based on user reviews and preferences rather than typical professional (read, "expensive") marketing techniques.
Amazon's marketplace strategy is centered around promoting products. Amazon's goal with Marketplace has always been to help third-party sellers reach more customers and make more sales, and it does this in several ways. One core approach involves Amazon actively marketing Marketplace products on the site.
Here are some examples of how that happens:
Deals of the Day:
The holiday season can be particularly profitable for third-party sellers due to increased demand for specific items. Still, time is limited, so Deals of the Day allow members to promote relevant articles during those weeks leading up to Christmas.
Lightning Deals:
These deals have an even shorter window than sales marked 'Deals of the Day' but offer another opportunity.
The importance of an effective strategy when it comes to selling on Amazon
You can do a few simple things when selling on Amazon—for example, regularly pricing your products and creating new listings.
The initial step to selling on Amazon is choosing the right products. To effectively sell in this Marketplace, you must select a product with the potential for high demand. Do not choose something with insufficient demand or an oversupply in your target audience.
For adults and teenagers, it is crucial to understand – both psychology & marketing.
Additionally, adolescents must clearly understand the customer's needs before effectively creating the proper solutions for them.
They should also be able to handle criticisms properly without emotionally damaging themselves.
Amazon Marketplace Strategies
Amazon Marketplace is an online marketplace built on the principles of eCommerce. Like a traditional store, Amazon Marketplace lets buyers browse thousands of products using keywords and categories to find what they need.
Sign up for an Amazon account.
Search for products to sell
Find a supplier or manufacturer
Set your prices and shipping costs
List your items on the Marketplace
Determine what type of products you want to sell
Find a supplier for those products and negotiate the price with them
Get your domain name and hosting set up with Amazon Marketplace
Design your store's look and feel
Add products to the store, including pictures, descriptions, and prices
Promote your store on social media sites like Facebook or Twitter
Create a listing with accurate and complete information
Use the most relevant keywords in your product title, description, and tags to make it easier for people to find your item
Offer free shipping on orders over $25 or more
Include high-quality photos of the products you're selling
Respond quickly to customer reviews
Set up your Amazon account and seller profile
Get familiar with the selling process, including how to list items for sale, what fees are involved, and the best practices for marketing.
Create a shipping plan that works for you, including choosing an FBA or merchant-fulfilled option and figuring out where to store all of your products on hand.
Make sure you know which types of products sell better than others on Amazon so you can focus on those in particular when listing new items.
Choose a product to sell
Create an Amazon seller account
List the item for sale on Amazon's Marketplace
Market your product through social media and other outlets
Manage customer service questions, refunds, shipping costs, and more
Optimize your listings
Use the Amazon advertising platform to promote your products
Research and find profitable products to sell on Amazon
Consider using Fulfillment by Amazon for more profit
Use your customer reviews to create a "social proof."
Promote your Amazon store through social media and email marketing
Create an attractive, eye-catching storefront with compelling product descriptions
Offer free shipping or low-cost shipping for customers who order more than one item
Find products you want to sell
Become a seller on Amazon
Create your account and list items for sale
Upload pictures, descriptions, and prices of the products you're selling
Set up shipping rates with Amazon, so customers know how much it will cost before they make a purchase
Figure out your niche
Find a product to sell
Create an account with Amazon, including the seller's name and address information.
Design your store's look and feel
Add products to the store, including pictures, descriptions, and prices
Promote your store by adding it to social media channels like Facebook or Twitter
Create a profile and include your contact information, including email, phone number, and website
Submit your new product listing to the category in which it belongs
Monitor the performance of your listings by checking the orders section of your account dashboard
Respond to customer inquiries quickly
Amazon Marketplace Advertising
Marketers are always hunting for new channels to advertise through. Amazon Marketplace Advertising is one of those new avenues that can potentially bring in much more revenue than traditional advertising channels.
Amazon Marketplace Advertising is a great way to sell anything online. Even better, you don't have to build your website!
If you want to attract more customers, Amazon Marketplace Advertising is a great way to do it. It's straightforward to use and very simple.
Amazon Marketplace Advertising is a great way to increase your online business. The Amazon marketplace has over 150 million visitors per month, and with advertising on Amazon, you can affordably reach these people.
Amazon Marketplace Advertising Strategies
A great advertising strategy for Amazon Marketplace sellers is building a highly engaged audience.
It's not easy to make money on Amazon, but you can improve your chances by learning some tips I share today.
Amazon Marketplace Advertising is one of the top ways to establish a presence in eCommerce. It's fast and easy and can lead to significant results.
Please choose your products to sell on the Marketplace and price them competitively.
Optimize your product listings to rank higher in search results pages with keywords and detailed descriptions of the product's features, including pictures.
Respond promptly to customer inquiries and questions about their orders
Join the Marketplace with a professional profile and good product images
Upload your products to sell on Amazon, including a well-written description of what it is and how it can help buyers
Write engaging ad copy that explains why people should buy this item from you instead of someone else on the site or in stores
Create a catchy and memorable product title
Upload high-quality images of the product
List your products in several categories, such as "Kitchen" or "Beauty."
Include keywords on your listing that are relevant to your chosen category.
Write an accurate product description, including size, material, color, and price.
Target a specific product or category
Choose your audience
Create an ad campaign and set a budget
Write a compelling headline, description, and image to entice customers
Use keywords in the title of your ad to increase visibility on Amazon's search engine
Optimize your listings with keywords and competitive pricing
Advertise on other websites and social media channels like Facebook, Instagram, Pinterest, Twitter, etc., using the "Sponsored" option.
Conclusion
Are you an Amazon Marketplace seller seeking help creating a competitive marketplace strategy? Do you want guidance on securing the best ranking in search results and product pages, or learn expert tips about getting more reviews? The team at eCommerce Marketing Associates is here to provide expert advice on your physical products. We can also offer assistance if you're selling digital content like books and software online. Contact us today for a free consultation tailored specifically to your needs!