Digital Marketing Analytics Trends That You Should Not Ignore in 2023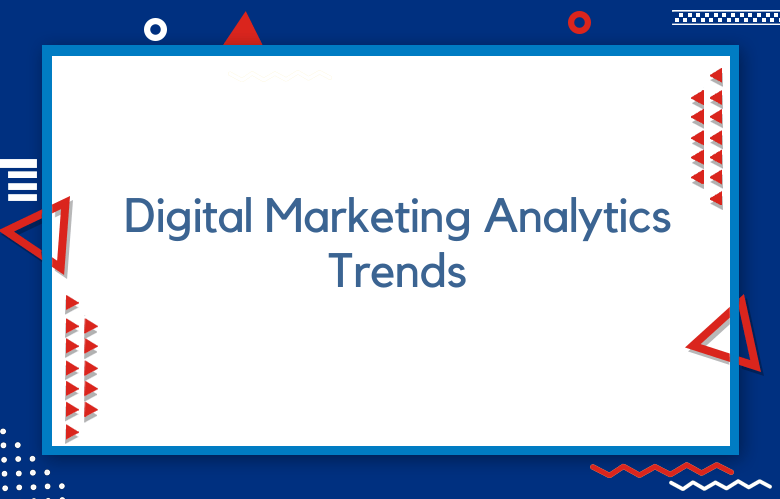 As we move further into the 21st century, digital marketing is becoming increasingly critical. By 2023, digital marketing is estimated to be a $252 billion industry.
Therefore, you must stay up to date on the latest digital marketing trends to make the most of your marketing budget. We will discuss three of the most important digital marketing trends for 2023. So please don't ignore them!
It's hard to believe that 2023 is just around the corner, but with digital marketing analytics trends like those listed below, it's something to start preparing for now.
By understanding how these trends will impact your marketing strategy, you can ensure that your business remains ahead of the curve and continues to thrive in future years.
So, without further ado, let's look at some of the most important digital marketing analytics trends for 2023!
Digital Marketing Analytics Trends That You Should Not Ignore in 2023
The convergence of "Big Data," "Internet of Things," and "Artificial Intelligence" (AI) is going to enable accurate predictive analytics that will allow business analysts to predict customer and employee behavior and further build sophisticated models. This will enable companies to gain new business intelligence, uncover hidden relationships and trends, and provide customized solutions.
Digital marketing analytics use insights and data to create profiles of customers and niche groupings of people to customize and individualize their marketing experiences in real time.
Increased adoption of digital marketing analytics solutions will fuel the need to monitor and track the effectiveness of campaigns across digital channels.
Tightly integrated communication technology will provide advanced, real-time, granular metrics for market research and business intelligence. These technologies will be so sophisticated that they will guide a company rather than inform them. They will be able to facilitate real-time analytics and quick operational decisions.
The move from descriptive statistics in digital marketing analytics to predictive statistics is inevitable. As a result, application developers and software engineers must keep pace with business stakeholders' mounting demand for data for advanced customer analytics that can lead to real business insights.
Marketing analytics will become even more customer-centric because customer data will be correlated with customer behavior patterns for precision targeting to be actionable for customer relationship management. For example, adding customer lifecycle analysis to predictive analytics can improve a company's ability to manage large amounts of customer data and identify customer patterns and responses to marketing campaigns. Marketing analytics will be more holistic, intelligent, and proactive.
Data will be readily available and used to determine everything from the right ad to show the right audience to predicting the sale of a product before it is even unveiled to sell millions the first day it goes on the market.
Marketing analytics will be more about melding statistics and data mining to streamline encyclopedic knowledge into intelligent systems that can help explain, illustrate, and solve marketing problems.
The research study stated that there would be an increase in the number of transactions; transactions would be more complex and deal with more diverse data; marketplaces would be more difficult, and the pace of change would increase.
Digital Marketing Analytics will cover content, social media, user experience, and more.
Digital Marketing Analytics must be trained in Big Data, virtualization, and cognitive computing. Business and non-business people will have access to immense amounts of complex data, calling for a new technology infrastructure different from today. As enterprises turn the latest data into usable information, the amount of computation will be enormous. The realm of possibility for marketing technology is possibly limitless.
One can expect more tools and software to help collect, measure, and analyze the data gathered by the plethora of technology touchpoints that consumers and businesses use.
big data will be so widespread that "most large companies would be suffering from 'data delirium."' They will have so much data that they no longer know how to analyze it. In the data delirium, they no longer know what to do with the deluge of data they already have – and they will acquire even more, even if they do not need it. Moreover, data will no longer be in control.
Digital marketing analytics will merge with artificial intelligence, according to the study. Analytics software will be a "collective effort," relying on crowdsourcing to solve problems, set strategies, assess trends, and make decisions.
Predictive analytics will use predictive models that analyze customer data to make proactive recommendations on suitable ads to show to customers and forecast their purchases.
Marketing Analytics will be the cornerstone of a well-oiled marketing machine. It will enable organizations to target their audiences, predict their future behaviors and attitudes, and adjust their offerings to meet that target while monitoring and tracking its effectiveness.
Companies will look at citizens and customers as risk-reduction opportunities. Companies will look at all their data and abstractions and try to see the new common feature of those who have or have not been involved in some problem.
Predictive analytics will continue to be enhanced by social media and big data. If a company can track the likes and dislikes of every customer, it can better serve them as individuals and reduce the use of mass marketing.
According to the study, marketers will target consumers more precisely and personally than ever. Marketers will track a consumer's demographics and psychographics to personalize marketing.
It's all about the data. Marketers will be swamped with a surplus of information because of the increased use of the Internet and its offerings and the power of new technologies to collect and store data. The challenge will be how to use that mountain of data to develop a better understanding of the consumer.
Marketing analytics will be about making a difference for businesses. Data scientists will impact new product development, the sizing of inventory, and creative campaigns. They will also predict if a campaign will be successful or if a product will sell well. This will be made possible by collecting and analyzing more data than ever.
Predictive modeling will be more effective, and companies will have the power to predict the products someone is likely to buy with greater accuracy.
Businesses will use more data, advanced analytics, and technology to make better decisions. Companies will collect information from social media sites, blogs, online retailers, and more. Analysts will use this data to analyze their company's market, predict the impact of social media, and ultimately help their companies succeed in the marketplace.
The amount of data available to marketers will expand exponentially, deepening the divide between success and failure. As a result, important questions regarding exploratory versus confirmatory models, metrics, scale and robustness of modeling, measurement, the definition of success, and core competencies of marketing organizations will continue to be critical guidelines.
Marketing analytics will provide the technology to target consumers better and measure a consumer's propensity to purchase a product or service. Analytical systems will better identify consumer needs, measure their satisfaction, and compute the value of consumer feedback.
Companies will predict who will buy their product, how many to produce for stores, and when. They can forecast future marketing needs in seconds instead of months. These "next-generation" marketing analytics tools will be capable of quickly processing a mass of data to provide the company with a massive and clear picture of the marketing situation.
The key characteristics of this type of technology are the ability to process vast amounts of data, give instant access to this information and apply it to thousands of variables—also the ability to base future data on historical data so the software can project future outcomes. Advanced predictive analytics will make the proper decision quickly, significantly increase ROI, and improve overall success.
Marketing analytics are likely going to be much simpler to access and use.
There will be analytics for all aspects of the marketing process: inputs, processes, outputs, and outcomes. In the future, marketers will use these real-time measurements at all steps of the marketing process, taking data they get off the web, on social networks and mobile phones, and in stores and applying it to their marketing mix and creative content.
Marketing Analytics will create closer relationships between consumers and brands by using digital marketing and technology insights to personalize content and experiences for the end user.
More and more intelligent computers will be doing more complex analyses of large and growing amounts of data.
Marketing will become more automated and rely more on software technologies. In addition to mining data and publishing reports, innovative technology will automatically analyze the data and make recommendations or predictions. It will quickly read and collect, act on, and store data.
Organizations will utilize data mining, business intelligence, data integration, and analytics tools to analyze and make sense of massive amounts of data quickly and efficiently, including internal and external clickstream and transaction data.
Marketing analytics will require several new types of skills and technology. The traditional CRM systems that rely on a company's historical data will not be nearly as effective for decision-making as systems that use predictive analytics to look at future scenarios. New technologies such as high-performance computing to deal with massive amounts of data and real-time data from social networking will also be crucial.
Marketers will become data scientists by collecting, cleansing, and analyzing vast data to accomplish their business and marketing goals.
Brands are expected to have high proficiency in data analytics across all areas of their business. The ability to access structured and unstructured data, analyze this data, and do data science will increasingly become table stakes for companies to compete.
There will be a trend toward combining data mining and data fusion and providing intelligence about what will happen in the future, much more sophisticated than traditional data mining and big data technologies.
Consumers will be connected through the Net, providing marketers with a giant digital supermarket that can be mined for consumer information. Digital marketing will also include new forms of digital advertising (such as digital coupons, packaging labels, billboards, magazines, and catalogs) and new digital forms of traditional advertising (such as digital television).
Marketing analytics will help organizations reach customers, understand trends, and gain a competitive advantage.
Marketing analytics will enable companies to be more efficient. They will measure what is adequate rather than spend money on guesswork.
A whole range of companies and professionals will increasingly need to measure results, quantify the quality of customer experiences, and my vast amounts of data for customer insights and insights about future opportunities for customer transactions.
Firms will understand their insights across channels like TV, social media, etc. That is why Marketing analytics is becoming more critical in the Era of Everything.
Companies will use analytics to manage organizations committed to achieving the highest marketing performance. Marketing analytics will encourage organizations to focus on market-driven strategies to compete in the market, segmentation, and other statistical tools to optimize promotions, advanced planning, and analysis of the effectiveness of marketing decisions.
Marketers will use an instantaneous connection between television and the consumer dashboard. People will call up a site or store to order products and services. In turn, they will receive credit instantly and do away with the lengthy and burdensome processes of modern living.
Every marketer will have a mathematical and statistical model that shows the exact probability of everything that might impact the life of each customer. Every marketing plan will be based on these models, and the models will be constantly updated and revised.
The study predicts we will make better predictions about people's behavior based on their actions. Instead of just looking at typical demographics like age and sex, marketers can tailor their advertising campaigns more accurately based on a consumer's actions.
Marketers can analyze shopping trends and purchasing behavior that will help influence store locations, layouts, and product offerings.
Marketers will better understand who people are, what they want, and when they want it, which will give them a better chance at creating the right products at the right place at the right price.
Marketing analytics will derive from web clickstream, RFID, GPS, DVR, and mobile phone usage data, not just from demographic data. The data will be integrated into a typical information warehouse and mined for the most precise, accurate information on which valuable new marketing strategies, tactics, and tools can be based.
Conclusion
The digital marketing industry is changing rapidly. If you want to stay on top of what's happening in the space, you need an expert team to keep up with the latest developments. We specialize in helping companies leverage new findings and strategies for their business-specific needs.
Our clients can use our expert insights to maintain or expand their market share while keeping ahead of competitors. Reach us today if you need help with how your company could use analytics tools to grow more effectively!