Digital Marketing Glossary : 1200+ Marketing Terms & Definitions You Need to Know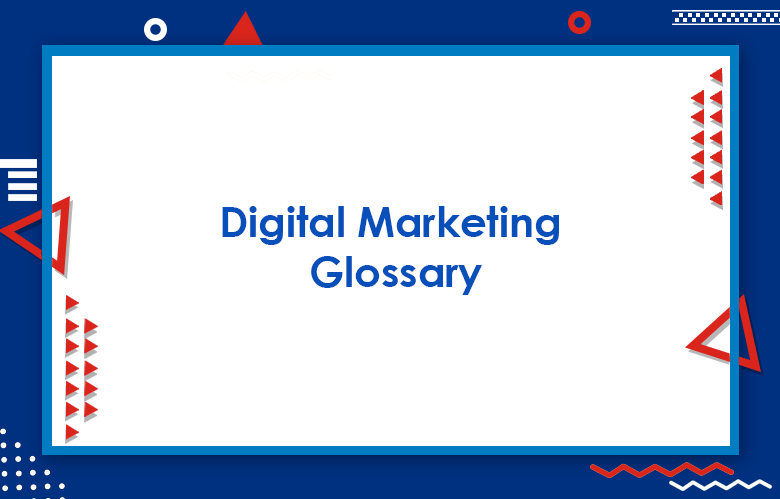 Digital Marketing is a powerful way to reach a global audience through online digital marketing practices. Digital marketing has developed and expanded its branches to increase its reach.
Digital Marketing Glossary: As consumers, we all are professionals in using social media platforms like YouTube, Facebook, Twitter, Instagram, Pinterest, etc. But when discussing social media, digital marketing is the immediately striking word for the business brand. Most businesses are entirely inclined to digital marketing, where they can diminish the marketing budget.
Most probably, the COVID19 Pandemic has transformed digital marketing by letting consumers spend more and more hours online than ever. This made the marketing professionals focus more on digital marketing, social media trends, and content creation strategies to engage their customers continuously. The transformation of digital marketing makes sense to businesses in fetching the jargon of the digital marketing glossary.
When we talk about digital marketing, it seems to be the most confusing library to pick in elevating our skills that find the growth of the business. Brush up your marketing skills by looking at our comprehensive list of digital marketing glossaries.
Several companies had successful stories with digital marketing. The marketing world has already turned towards digital ways to explore the online web world. New technologies are developing for the future digital marketing standards and will continue from generation to generation with recent accomplishments in a digital era.
Digital Marketing Glossary 2023
A – AdWords
Adwords are powered by P.P.C. advertising, allowing marketers to target people on search results. The ads can appear in organic searches, displayed above and on the page's right side.
B – Banner Ads
Banner ads, also called Display ads, are used in digital marketing as an advertising practice. The ads are in the form of images that advertisers place these ads on publishers' sites to attract the targeted audience efficiently.
C – C
Click-through rates are commonly seen in the digital marketing ecosystem. Click-through rates mean the percentage of the audience targeted by the marketer's ad and clicked on a particular link provided in the ad. Those clicks can be measured as C.T.R.
D – Digital Marketing channels
Affiliate marketing, Display advertising, social media marketing, etc., are digital marketing channels. There are multiple digital marketing channels where an advertiser can target by practicing the techniques related to digital marketing to reach their target audience. Different channels need different digital marketing practices and strategies with efficient and effective implementation.
E – Email marketing 
Email marketing is also one of the forms of digital marketing, which is one of the best ways to reach consumers at a low cost. It is how to communicate with the people through email campaigns by including media ad clickable links to promote the business.
F – Facebook advertising
Facebook video advertising is also considered part of digital advertising today, which comes under channel social media marketing. The Facebook platform has provided excellent tools for publishers and marketers to reach the audience across the platform with autoplay video ads, carousel video ads, etc.
G – Geotargeting
Geographical targeting has become the most powerful way to reach people in a particular area. Google offers Twitter and many other platforms to target people depending on their living place.
H – Hashtag
Hashtag marketing is the most connective type of marketing generally seen on Twitter, Facebook, and even Instagram. The hashtags usually describe the post, event, or particular happenings. It helps marketers to measure the success of their campaigns.
I – Influencer marketing
Influencer marketing has become an emerging trend in the digital marketing era. People with a solid fan base and follow-along with the ability to influence people to make purchase decisions are considered influencers. Marketers are catching these influencers online on several platforms and performing their marketing activities and product promotions through influencer marketing strategies.
J – JavaScript
JavaScript plays a significant role in creating interactive websites, vital in digital e-commerce marketing today.
K – Keywords
Keywords play an essential role in SEO and digital marketing today. Efficient keyword placement is the key to boosting the rankings on search engine results and increasing web visibility.
L – Link building
Link building is one of the processes of building inbound links to a website to increase search engine rankings.
M – Meta tags
Meta tags are essential elements in the marketing plan. The Meta tags are used to describe the information about the web page.
N – Newsfeed
The news feed is generally seen on various social platforms like Facebook, Twitter, etc. Marketers usually target these news feeds by constructing their social profiles across the media.
O – Organic search
The organic search is an unpaid entry in the search engine result based on the content relevancy according to the keyword queries.
P – Paid content
The content a marketer promotes by any paid means using ads on different platforms.
Q – Question and answer interaction
Question-and-answer tutorials in a video can help the audience know about specific companies and services. It is one of the best ways of marketing practice.
R – Retargeting
Retargeting is the process driven by the web browser cookies that enable the marketers to promote the digital message to those who have visited the marketer's site or business location.
S – SEO
Search engine optimization is the best practice in a digital marketing plan which promotes the campaign and adds value to the advertiser's efforts to reach the people and to drive the rankings.
T – Trends
Digital marketing trends are new ways of approaching people with different techniques and practices considered trends.
U — Unique content
Content quality is essential to implement an effective digital marketing content strategy. Unique content with good quality plays a significant role in search rankings.
V – Video marketing
Different types of video formats compatible with mobile devices and other multiple devices can be utilized in video advertising to reach people with device targeting. Video marketing is the most powerful in digital marketing today as more people are watching videos—there are different types of video ads and tools for effective video marketing.
W – Website optimization
Web designing and optimization are significant for digital e-commerce marketing. Optimizing the page, layout, designs, and several other components is the best way to reach the audience.
X – XML sitemap
The XML sitemap is created in the XML language and submitted to the search engine using the Google webmaster tools.
Y – Youtube
YouTube is the top destination for digital video marketing, with more than two billion hours of video content. Youtube offers many skippable, unskippable, and shoppable ads for advertisers and marketers to reach the audience.
More Terms on Digital Marketing
.htaccess File
200 OK Status
301 Redirect or Redirection
302 Redirect
404 Error
404 Not Found
A/B Testing (or Split-Testing)
A/B Tests
Abandoned Cart
A.B.M.
Above the fold
Absolute URL
Accelerated Mobile Pages (A.M.P.)
Accessibility
Account Executive or Account Manager
Account Manager
Action
Active verb
Active Verbs
Ad Copy
Ad Extensions
Ad Network
Ad Space
Adaptive Content
AdSense
Advertising
Advertising Budget
Advertorial
AdWords
Affiliate
Affiliate Marketing
Affiliate Network
Agency Marketing
Aggregated Content
Aggregation sites
Agile
AJAX
Alert
Alexa Rank
Algorithm
Algorithm Change
Algorithm Update
Algorithmic penalty
Alt Attribute
Alt tag
Alt Text
A.L.T. Text/Tag
ALT-Tags
A.M.P.
Analytics
Anchor Text
Annual Recurring Revenue
API
App
App indexing
App Packs
Article
Article Marketing
Artificial Intelligence (A.I.)
Astroturfing
Atomization
Attribution
Attribution Models
Audience Segmentation
Audit and Mapping
Authority
Authority site
Authorship
Autoblog
Autoresponder
Autosuggest
B2B and B2C
B2B Marketing
B2C Marketing
Backlink
Backlinks
Bad Neighborhoods
Bad neighborhoods
Baidu
Baidu Search Engine
Bait and switch
Banner Ad
Banner Ads
Banner blindness
Baseline
Benefit-cost analysis
Big Data
Bing
Bing Ads
Bing SEO
Black Box
Black Hat
Black Hat SEO
Blocklist
Blocklists
Blog
Blog commenting
Blogging
Blogosphere
Boilerplate
Bookmarking
Bookmarks
Boolean logic
Boost Blog Traffic
Bot
Bottom of the Funnel (B.O.F.U.)
Bounce Rate
Brand
Brand affinity
Brand awareness
Brand Building
Brand engagement
Brand Evangelist
Brand Identity
Brand Image
Brand Journalism
Brand Manager
Brand Marketing
Brand mention link building
Brand monitoring
Brand Terrorist
Brand tracking
Brand visibility
Branded Keywords
Breadcrumb Links
Breadcrumb navigation
Breadcrumb Trail
Breadcrumbs
Broad match keyword
Broken link
Business Bolts
Business-to-Business (B2B)
Business-to-Consumer (B2C)
Buyer Journey
Buyer Personas
Buyer's Journey
Buying Cycle
Buzz
Cache
Cached link
Cached Page
Call to Action (C.T.A.)
Call-to-Action (C.T.A.)
Canonical Tag
Canonical URL (Canonical tag)
Canonicalization
CAPTCHA
Carousel
Cascading Style Sheets (CSS)
Case Study
ccTLD
Chatbots
Churn
Churn and burn SEO
Citations
Citizen Journalism
Clamber
Classified Advertising
Click Bait
Click Fraud
Click Paths
Click Through Rate/C.T.R.
Click Tracking
Clickbait
ClickThrough Rate (C.T.R.)
Click-Through Rate (C.T.R.)
Click-Through-Rate (C.T.R.)
Cloaking
CMS
CMS (Content Management System)
Co-Citation
Cold Calling
Cold email
Comment Spam
Comparative Advertising
Competition
Competitive analysis
Competitive intelligence
Competitor analysis
Competitor monitoring
Contact Form
Content
Content Aggregator
Content Audit
Content Brief
Content Champion
Content Curation
Content curation portal
Content Curation Software
Content Farm (a.k.a. content mill)
Content farm or Content mill
Content is King
Content Management System (C.M.S.)
Content Marketing
Content Shock
Content spinning
Content Strategy
Content syndication
Contextual Advertising
Conversation
Conversion
Conversion Funnel
Conversion Path
Conversion Rate
Conversion Rate Optimization (C.R.O.)
Conversion XL
ConversionXL
Convince and Convert
Cookies
Copied content
Copyblogger
Copyscape
Copywriting
Cornerstone Content
Corporate Identity
Correlation
Cost Per 1,000 Impressions (C.P.M.)
Cost Per Acquisition (C.P.A.)
Cost Per Action (C.P.A.)
Cost Per Click (C.P.C.)
Cost Per lead (C.P.L.)
Cost Per Sale (C.P.S.)
Cost per thousand impressions
Cost-Based Pricing
Crawl
Crawl Budget
Crawl demand
Crawl depth
Crawl Error
Crawl Errors
Crawl Frequency
Crawl Rate
Crawlability
Crawler
Crawling
Creative
Creative Commons
Creative Commons Licenses
Creatives
Crisis management
CRM
Cross-linking
Crowdsourced Content
Crowdsourcing
CSS (Cascading Style Sheets)
Curated content
Curation
Customer Acquisition Cost
Customer Data Platform
Customer Journey
Customer Loyalty
Customer Persona
Customer Relationship Management (CRM)
Cybersquatting
DA – Domain Authority
Dark
Data
Data Extraction
Data Mining
Data-backed Content
Dead Link
Dead-End Page
Deal Closing
Decision-Maker
Deep Link
Deep linking
Deep links
Defamation
De-index
De-indexing
Demographics
Device Detection
Digital Advertising
Digital Commerce
Digital Marketing (Online Marketing)
Digital Marketing Strategy
Digital Sharecropping
Direct Answer
Direct Competition
Direct Mail
Direct Mail Marketing
Direct Marketing
Direct Response
Direct traffic
Directory
Disavow
Disavow Backlinks
Disavow links
Disavow Tool
Discover More Places
Discovery Call
Display Ads
Distribution Channel
DMOZ
DNS
DNS server
Do-follow
Dofollow link
Domain
Domain Authority (DA)
Domain name
Domain name registrars
Domain Strength
Doorway Page
Double Opt-In
Drip Campaign
Drop Out Rate
Drupal
DuckDuckGo
Duct Tape Marketing
Duplicate Content
Dwell Time
Dynamic Content
Dynamic Keyword Insertion
Dynamic Tags
Dynamic URL
Earned Media
Ebook
Ebooks
Echo Chamber
eCommerce
eCommerce SEO
CRM
Editing
Editorial Brief
Editorial Calendar
Editorial Link
Ego-Bait
eLearning
Email
Email Automation
Email List
Email Marketing
Email outreach
Embedding
Emotion
End User
eNewsletter
Engagement
Engagement Metrics
Engagement Rate
Entities
Entrepreneur on Fire
Entry Page
E.P.C.
Error 404
Ethics
Evaluation
Evergreen Content
Exact match anchor text
Exact match keyword
Exit Page
Exit Rate
Experimental Content
Expert document
Expertise-Authority-Trust (E-A-T)
Extensible Markup Language (XML)
External Link
External Linking
Eye Tracking
Ezine
F.A.B.
Facebook
Facebook Ads
Facebook Ads Manager
Facebook Application
Facebook Business Page
Facebook Marketing
Facebook Messenger News & Policy
Facebook News Feed
Facebook Profile
Fact Browser
Factbrowser
F.A.Q.
Favicon
F.C.C.
Feature
Featured Snippet
Feed
Feed Reader
Fetch as Google
Findability
Fizzle
Flat Rate
Flog
Focus Group
Fold
Footer Link
Forecasting
Formats
Forum
Freelance writers
Frequency
Frequency Cap
Fresh Content
Freshness (Freshness factor)
Freshness Algorithm
Friction
FTC
FTP (File Transfer Protocol)
Funnel
Gain Higher Ground
Gamification
Gap Analysis
Gated Content
Geographic Segmentation
Geographical Targeting
Geotargeting
Ghostwriter
Ghostwriting
Goal
Google
Google Ads
Google AdSense
Google AdWords
Google Alerts
Google Algorithm
Google Analytics
Google Analytics Tracking Code
Google Autocomplete
Google bomb
Google bowling
Google Cached Links
Google Dance
Google Fonts
Google for Jobs
Google Fred
Google Home Service Ads
Google Hummingbird
Google Juice
Google Keyword Planner
Google MapMaker
Google Maps
Google Mobile-Friendly Test
Google My Business
Google My Business Directory
Google News
Google Optimize
Google PageSpeed Insights
Google Panda
Google Panda Algorithm
Google Penalty
Google Penguin
Google Penguin Algorithm
Google Pigeon
Google Pigeon Update
Google Pirate
Google Play Store
Google Possum
Google Posts
Google RankBrain
Google Remarketing
Google Sandbox
Google Search Algorithm
Google Search Console
Google Trends
Google Webmaster Guidelines
Google's Mobile Friendly update
Google's related searches
Google+
Googlebot
Graph Search
Gray Hat
Grey Hat SEO
Gross Rating Points
Groundswell
Growth Marketing
gTLDs
Guarantee Images
Guest Blogging
Guest Posting
Geographic
H1 Tag
H2, H3 etc tags
H2, H3 etc. tags
Habitual Decision Making
Halo Effect
Hamburger Button
Hangout
Hard Bounce
Hard Sell
Hashtag
Head Tag (in HTML)
Head Term
Heading
Heading Tags
Headings
Headline
Head-To-Head Competition
Heat Map
Hidden Object
Hidden objection
Hidden Text
Hilltop Algorithm
Hit
Hits
HITS Algorithm
Homepage
Hosting
House List
House Style
Hreflang attribute
Hreflang Tag
Hreflang Tags
HTML (Hyper Text Markup Language)
HTML heading (H1-H6 tag)
HTML Headings
HTML Sitemap
HTML source code
HTML5
HTTP
HTTP (HTTPS)
HTTP headers
HTTP
Hub
Hub Page
Hubspot
Hyperlink
Hypertext Markup Language (HTML)
Hypertext Transfer Protocol (HTTP)
Ideal Customer Profile (I.C.P.)
Iframe
Image filename
Image SEO
Image sitemap
Image Thumbnail
Image title
Images Box
Impression
Impression Fraud
Inbound Link
Inbound Marketing
Incognito Mode
Index
Index Page
Indexability
Indexed Page
Indexed Pages
Indexing
Industry News
Influence marketing
Influencer
Influencer marketing
Influencer marketing tools
Influencers
Infographic
Information Architecture
Information Retrieval
Instagram
Instagram Ads
Instagram Marketing
Integrated Marketing
Integrity
Interactive Content
Interactive Learning Environment (I.L.E.)
Interactivity
Internal Link
Internal Links vs. Inbound Links
Internal Marketing
Internal Site Search
International SEO
Internet Explorer
Internet Marketing
Internet Press Release
Interstitials
Interview
I.P. address
iTunes App Store
IDX
Jargon
Java
JavaScript
JavaScript (J.S.)
J.I.T.
Job Lot
Joint Demand
Joint Venture
Joomla
Judgment sample
Judgment Sample
Junket
Junk mail
Kaizen
Kanban
Keep-Out Pricing
Kei Analysis
Key Account
Key Buying Criteria
Key Buying Influential
Key Items
Key Performance Indicator (KPI)
Key Performance Indicators (KPIs)
Key Phrase
Key Prospects
Key Success Factors
KeyWirky
Keyword (not provided)
Keyword analysis
Keyword Cannibalization
Keyword categorization
Keyword competition
Keyword Density
Keyword Frequency
Keyword funnel
Keyword Not Provided
Keyword Planner
Keyword prominence
Keyword proximity
Keyword rank
Keyword Ranking
Keyword Research
Keyword Stemming
Keyword Stuffing
Keywords
KISS Principle
Klout
Knocking Copy
Knowledge Graph
Knowledge Panel
KPI
Landing Page
Landing Pages
Latent Semantic Indexing (LSI)
Latent semantic indexing keyword
Lazy Loading
Lead
Lead Generation/Lead Magnet/Lead Nurturing
Lead magnet
Lead Management
Lead Nurturing
Lead Qualification
Lead Scoring
Leads
Lean Content
Learning Management System (L.M.S.)
Learning Style
Lifecycle Stages
Lifetime Customer Value
Link
Link Bait
Link Building
Link burst
Link Checker
Link condom
Link diversity
Link equity
Link Exchange
Link Farm
Link hoarding
Link Juice
Link outreach
Link Popularity
Link Profile
Link Reclamation
Link relevancy
Link Rot
Link spam
Link Velocity
Linkbait
LinkedIn
LinkedIn Advertising
LinkedIn Profile
List Broker
List Segmentation
Load Time
Local citation
Local Finder
Local Pack
Local Search
Local SEO
Log File
Log File Analysis
Long Tail
Long-Tail Keywords
Lookalike Audience Finder
Lookalike Audiences
Loss Aversion
Lost link
Machine Learning
Manual action
Manual Action Penalty
Manual Penalty
Margin
Market Development
Market Penetration
Market Profile
Market research
Market Segmentation
Market Share
Market-Based Pricing
Marketing
Marketing Agencies
Marketing Analytics
Marketing Automation
Marketing Collateral
Marketing Mix
Marketing Objectives
Marketing Plan
Marketing Qualified Lead
Marketing research
Marketing Tools
Mashable
Mashup
Mass Customization
Membership Site
Meme
Mentions
Meta Data
Meta description tag
Meta Element
Meta Keywords
Meta Keywords or Keyword Tag
Meta refresh
Meta Tags
Metadata
Meta-Search Engines
Metric
Metrics
Microblogging
Microsoft Search Alliance
Middle of the Funnel (M.O.F.U.)
Mini Browser
Mirror site
Mirror sites
Mobile
Mobile Marketing
Mobile Optimization
Mobile SEO
Mobile-First Indexing
Mobile-friendly website
Monetising
Monetizing
Monthly Recurring Revenue
Morning score
Multimedia
Multipurpose Content
Multivariate Testing
Narrow and Deep
Narrowcasting
Native Advertising
Natural Language Processing
Natural Link
Natural Search
Navigation
Need profiling
Negative SEO
Netiquette
New Media Marketing
New Product Development
New Visitor
Newbie
News Reader
Newsgroup
Newsjacking
Newsletter Marketing
New-to-the-World Product
Niche
Niche Market/Business
Niche Marketing
Niche Product
No archive Tag
Nofollow
Nofollow Attribute
Nofollow Link
Noindex
Noindex Tag
No-index tag
Nomenclature
Nonprofit Marketing
No opener and No referrer
Nosnippet Tag
Offer
Offers
Off-page Optimization
Off-Page SEO
Omnichannel
OmniChannel Marketing
Onboarding
Online Press Release
Online Press Room
Online Reputation Management
On-page Optimization
On-Page SEO
Open Graph
Open Rate
Open Rate vs. Total Opens
Open Source
OpenSearch
Operational CRM
Opt-in
Opt-out
Organic Links
Organic rank
Organic Search
Organic Search Results
Organic traffic
Original Content
Original Referrer
ORM
Orphan Page
Outbound Link
Outbound Links
Outreach
Outreach marketing
Over-optimization
Overture
Owned Media
PA – Page Authority
Page Authority
Page Authority (P.A.)
Page cloaking
Page Exit Ratio
Page Speed
Page speed
Page Tags
Page Title
Page Views
Page Views per Visit
Page vs. Domain Authority
PageRank
PageRank (P.R.)
Pagespeed
Pageview (Page impression)
Pageviews (Impressions)
Paid Inclusion
Paid links (Link buying)
Paid Media
Paid Search
Paid search engine result
Paid traffic
Panda
Pass on Rate
Pay Per Click (P.P.C.)
Pay-Per-Click (P.P.C.)
PBN
PDF
Penalty
Penguin
People Also Ask
Permalink
Permission Marketing
Persona
Personal Development Plan
Personalize
Personalization
Personalize
Personalized Marketing
Personalized Product Recommendations
Phishing
Phone Feature
PHP
Pinterest
Piracy
Pixel
Plagiarism
Plug-In
Podcast
Podcasting
Pogo-sticking
Point Of Contact (P.O.C.)
Poison words
Popup
Portfolio
Position
PPC
PPC (Pay Per Click)
Precision
Press Release
Primary keyword
Private Label Rights (P.L.R.)
Product Differentiation
Product Lifecycle
Product Positioning
Product Range
Programmatic Advertising
Promoted Content
Promotion
Promotional Mix
Promotions
Psychographics
Public Relations
Pull channel
Pull marketing
Push channel
Push marketing
Pushing Social
Q&A
PDF
Qik
QR Code
Q-Sort Technique
Qualified Lead
Qualified Traffic
Qualitative Data
Qualitative Forecasting
Qualitative Media Effect
Quality
Quality Assurance
Quality Content
Quality controls
Quality Creep
Quality Link
Quality Score
Quantcast
Quantitative Data
Quantity
Query
Query Deserves Diversity (Q.D.D.)
Query Deserves Freshness (Q.D.F.)
Questionnaire
Questions
Quicksprout
Quicktime
Quotes
QWERTY
Rank
RankBrain
Ranking
Ranking Factor
Ranking Signal
Rational Appeals in Advertising
Rational Buying Motives
Reach
Readability
Reciprocal Linking
Reciprocal Links
Redirect
Redirects
Referral
Referral traffic
Referrer
Referrer String
Reinclusion
Related Search
Relationship Marketing
Relative URL
Relevance
Remarketing
Remarketing Or Retargeting
Repeat Visitors
Repurposing
Reputation Capital
Reputation management
Research and Development
Responsive Design
Responsive Web Design
Responsive Website
Retargeting
Return on Ad Spend (R.O.A.S.)
Return On Investment (R.O.I.)
Return Visitor
Revenue Share
Reviews
Reviews (Stars)
Rich Cards
Rich Snippet
Right to Be Forgotten
Road
Robot.txt File
Robots meta tag
Robots.txt
Robots.txt File
ROI
RSS
RSS Feed
S.W.O.T. Analysis
S.A.B. (Service Area Business)
Sales Funnel
Salesforce
Schema
Schema Marketing
Schema Markup
Schema.org
Scrape
Scraper
Scraping
Search Algorithm
Search Box
Search Engine
Search engine algorithm (Google algorithm)
Search engine marketing (S.E.M.)
Search Engine Optimization (SEO)
Search engine rank
Search Engine Results Page (S.E.R.P.)
Search engine spam
Search Engines
Search History
Search Operators
Search Query
Search result snippet
Search Term
Search Visibility
Search visibility score
Search volume
SearchStatus
Seasonal content
Secondary keywords
Secure Hypertext Transfer Protocol (HTTP)
Seed keywords
Seeding
Segmentation
S.E.M.
Sentiment
SEO (Search Engine Optimization)
SEO audit
SEO Friendly URL
SEO service
SEO silo
SEO silo structure
SEO site audit
SEO Toolbars
SEO URL
SEOnaut
SEP
SERP Features
S.E.R.P. shaker
S.E.R.P.s
Server Log Files
Session
Share
Share of Voice
Short URL
Similar link
Sitelinks
Sitemap
Sitemap XML
Sitewide link
Sitewide Links
Skyscraping
Smart Passive Income
SMM
SMS Marketing
Snackable Content
Snapchat
Social
Social Bookmarking
Social Graph
Social listening
Social listening tools
Social media
Social Media Apps
Social Media Examiner
Social Media Explorer
Social media listening
Social media listening tools
Social Media Marketing
Social media marketing (S.M.M.)
Social media monitoring
Social media monitoring tools
Social media optimization
Social Media Optimization (S.M.O.)
Social media platforms
Social media tracking
Social mentions
Social monitoring
Social networks
Social Optimization
Social platforms
Social Proof
Social Signal
Social Signals
Social syndication
Social tracking
Social Triggers
Soft 404 Error
Soft Bounce
Software as a service
Spam
Spamdexing
Spider
Spider Trap
Splash page
Split Testing (A/B testing)
Split-Testing
Splogs
Sponsored Content
Sponsored Links
SSL Certificate
Stakeholder
Static URL (Static link)
Status code
Status code 200
Status code 301 (301 redirects)
Status code 302 (302 redirects)
Status code 403
Status code 404
Status code 410
Status code 429
Status code 500
Status code 503
Status Codes
Stop words
Stories or Storytelling
Storytelling
Strategy
Streaming Media
Structured data (Schema)
Structured Markup
Structured Snippets
Subdomain
Subject Matter Expert (S.M.E.)
Submission
Sweating Your Content Assets
S.X.O.
Syndicated Content
Tabs
Tags
Target Audience
Target Market
Target Marketing
Targeting
Taxonomy
Technical Content
Technical SEO
Technical Writer
Templates
Tentpole Content
Term frequency x Inverse document frequency (TF*IDF)
TF*IDF
Thank You Page
The fold
The Sales Lion
Thin content
Things to Do
Third-Party Cookie
Thought-Leader
Time on Page
Title (Page Title)
Title Tags
Top heavy
Top heavy (Top heavy algorithm)
Top Level Domain
Top of the Funnel
Top of the Funnel (TOFU)
Top Stories
Top-Level Domain
Top-Level Domain (TLD)
Touch Point
TrackBack
Tracking
Tracking Code
Tracking Codes
Traditional Media
Traffic
Traffic potential
Transactional Email
Trawler
Troll
Trust
TrustRank
Twebinar
Twitter
Twitter Advertising
Twitter feature
Ultimate User
Unbundling
Undifferentiated Marketing
Uniform Resource Identifiers
Uniform Resource Locator (URL)
Unique Content
Unique Forwarders
Unique Page Views
Unique Pageviews
Unique Selling Proposition (U.S.P.)
Unique visit
Unique Visitors
Unit Cost
Unit Margin
Unit Market Share
Universal Search
UNIX
Unnatural Link
URL
URL (Uniform Resource Locator)
URL parameter
URL Rewriting
Usability
Useful
User Acceptance Testing
User Advocate
User Agent
User Engagement
User experience
User Experience (UX)
User-Friendly Content
User Generated Content
User Interface
User Interface (U.I.)
User Research
User Testing
User-friendly
User-Generated Content (U.G.C.)
Users
Value Statement
Vampire Effect
Variable Costs
Veblen Effect
Vendor
Venture
Venue
Vertical Channel Conflict
Vertical Integration
Vertical Search
Vertical search engine
Video Blogging
Video Marketing
Video Optimization
Video Thumbnail
Vimeo
Vine
Viral
Viral content
Viral Marketing
Virality
Virtual Assistant
Visibility
Vision Statement
Visit
Visit (Session)
Visit Duration
Visit Referrer
Visitor Session
Visitors
Visual Content
Vlog
Voice
Voice Search
VoIP
W3C
Web 2.0
Web Analytics
Web Application
Web Chat
Web Content
Web Design
Web Presence
Web Scraping
Webinars
Webpage
Website
Website (Site)
Website Content
Website Curation
Website Navigation
Website quality
Website structure
Webspam
Welcome Email
White Hat
White Hat SEO
Allowlist
White Paper
Whitepaper
Whitepaper Marketing
Whois
Widget
Widgets
Wiki
Wireframe
Word Count
Word of Mouse
Word-of-Mouth Marketing (W.O.M. Marketing)
WordPress
WordPress Marketing
WordTracker
Workflow
Writing for the Web
WWW
XML
XML feeds
XML Sitemap
Yahoo
Yahoo Advertising
Yandex
Yandex Search
Yield Management
Y.M.Y.L. pages
Yoast SEO
Youtility
YouTube
YouTube Advertising
Z Chart
Zeitgeist
Zemanta
Zero Level Channel
Series
Zone Pricing
Conclusion:
Being in the digital marketing industry with more than enough resources is not enough to improve the performance of your business. It is essential to go through the loop of digital marketing that contains the set of terms that helps enhance the promotional strategies.