Top 50 Digital Marketing Interview Questions 2023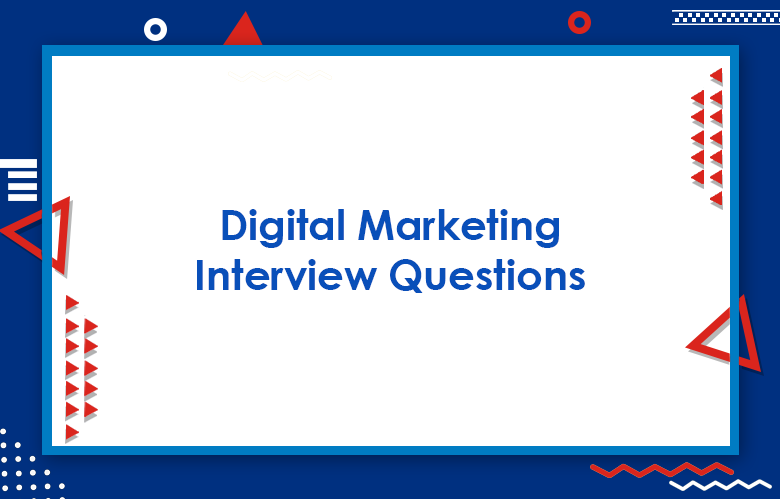 There is great demand for digital marketing professionals. There are great opportunities in a digital marketing career. Here are the top questions the candidates may face in a digital marketing interview.
1. What is digital marketing?
Using digital technologies to reach customers and convert them into leads can be termed digital marketing.
2. How much digital marketing is there?
Email marketing, SEO, pay-per-click, social media, online advertising, affiliate marketing, text messaging, blogging, and viral marketing are all types of digital marketing.
3. How can you categorize digital marketing terms?
It is categorized into inbound and outbound marketing.
4. What is inbound marketing?
Inbound marketing is a technique in which social media, webinars, eBooks, and newsletters are reused to help customers learn about the company and its products.
5. What is outbound marketing?
Outbound marketing is using calls,  emails, placing an advertisement, and digital platforms to reach the audience.
6. Is there any difference between direct marketing and branding?
Direct marketing targets senses relevant to business; typescript marketing is search network only, shopping campaigns, and dynamic search ads. In branding, the advertiser tries to get exposure to his brand using display ads, remarketing, YouTube ads, and other methods.
7. Why do brands prefer online marketing over offline marketing?
Digital marketing offers various benefits. Web development, hosting, and SEO are their tools, and it is possible to reach many individuals online.
8. What is Google Adwords remarketing?
Adwords remarketing is a strategy in which the marketers reach the people who visited the website but took no action to convert.
9. What is a responsive website?
This is a website that responds well to the interactions of the user, or it can be a site created using responsive web design.
10. Why are you interested in the digital marketing industry?
The digital marketing industry's reputation is good and gives people many opportunities to progress in their careers.
11. How to increase website traffic?
Concentrating on referring links and SEO will help increase website traffic.
12. What are using digital marketing tools?
Keyword discovery, rank watch, Alexa ranking, Google Analytics, Moz, and Digital Point Keyword Tracker are helpful digital marketing tools.
13. Where do you see yourself in the coming five years in digital marketing?
For this question, the candidate needs to give an answer based on the job he is interviewing for. If it is a digital marketing executive job, say the goal is to become a digital marketing manager. If it is for a digital marketing manager, say you see yourself as head of the digital marketing department.
14. Explain the limitation of online marketing?
The customer cannot analyze the product before buying, unable to confirm the quality of products and services. Another limitation is that the product shown online and delivered may differ.
15. What do you like most about digital marketing?
List some things such as SEO, PPC, and Affiliate, and tell them you enjoy taking up challenges.
16. What do you not like in digital marketing?
Be honest and tell them what task you dislike in your last job.
17. How will your experience benefit the digital marketing business?
Talk about your skills, what you learned, and how this knowledge and help the business.
18. What was the best challenge you have faced in this career?
Think about the challenges and what the outcome was. Do not hesitate to tell them about challenges that failed.
19. What attracted you to attend this job interview?
Tell them you want to work for the best employer in digital marketing.
20. How do you stay updated with digital marketing trends?
With blogs, books, webinars, and podcasts.
21. How do you rate yourself based on digital marketing knowledge?
Analyze your weaknesses, strengths, skills, and knowledge, and answer honestly.
22. Which are important likes, followers, or engagement numbers?
Like and follows do not always convert into sales; therefore, engagement numbers or essential.
23. How would you engage a more targeted audience through Facebook?
Please answer this question by analyzing the situation and asking the interviewer what he wants to achieve.
24. How to track and analyze the success of a campaign?
Talk about the goal, track progress via Google Analytics, etc.
25. What is SEO?
Search Engine Optimization is a process of organizing the site to allow search engines to index correctly.
26. What are the types of SEO?
SEO is done by using On-page optimization and off-page optimization.
27. What is on-page SEO optimization?
This is optimizing keywords, titles, meta tags, descriptions, etc.
28. What is off-page SEO optimization?
This is the method of earning backlinks from various websites.
29. Name some SEO blogs that you read to keep updated.
Search engine journal, MOZ, SEO Smarty, Jimboykins, Search Engine Land, etc.
30. What is a keyword?
The keyword is the term a user enters in a search engine to look for specific information.
31. How important is the keyword for SEO?
Keywords affect page ranking and site ranking in SEO.
32. Where to use keywords to optimize site ranking?
For better ranking, keywords are used in URLs, website Titles, Meta tags, web page content, headlines, etc.
33. What is Pay Per Click Advertising?
Pay Per Click is the amount spent by advertisers to the publisher to get the advertisement clicked.
34. What are the primary models of Pay Per Click?
Flat-rate PPC, Bid based PPC are the primary models of Pay Per Click.
35. What is flat-rate PPC?
In this model, publishers and advertisers understand how to fix an amount for each click.
36. What is bid-based PPC?
The publisher hosts a private auction, and the advertisers compete with other advertisers in this model.
37. How should an effective PPC keyword be like?
An Effective keyword should for PPC be relevant, exhaustive, and expensive.
38. Mention the elements to optimize PPC conversion rates?
Focus on compelling content, maintaining relevance between ads and landing pages, web page registration process, and landing page design to optimize PPC conversion rates.
39. What is the right approach for Pay Per Click campaigns?
Adding more PPC keywords, Splitting ad groups, reviewing PPC keywords, and adding negative keywords are all suitable approaches for effective pay-per-click campaigns.
40. Mention some useful online marketing tools.
Google Analytics, digital point keyword tracker, keyword discovery, XML sitemap generator, etc.
41. What is off-page optimization?
Getting external links pointing back to the page to boost search engine ranking is on-page optimization.
42. What is on-page optimization?
This deals with the structure of the website and the content in it.
43. How to avoid the penalty?
Do not use poisonous words, do not link to a site with the wrong page rank, and do not steal text or images.
44. What are the characteristics of wrong links?
Unrelated links, links from low-page rank sites, links from sites that are not in the Google index, or paid links can be said to be wrong.
45. What is Hootsuite?
This is a platform to manage all social media accounts from one place.
46. How to use social media for branding?
Running campaigns and promoting business through ads on social media helps with branding.
47. Which is your favorite social media platform?
Choose any social media platform, such as Facebook, Twitter, or Pinterest, and explain its strengths.
48. Can social media marketing help businesses?
Yes, Any reputable firm has an online presence on social media to get the proven benefits.
49. How does social media marketing benefit businesses?
Social media marketing helps businesses to develop relationships with prospects. The communication between consumers and companies is changed with social media marketing.
50. Is YouTube important for marketing?
Promoting the brand using video via the YouTube platform helps the brand to build relations with consumers. The audience can look behind the scenes or benefit from how-to videos.
The abovementioned questions are the most commonly used in a digital marketing interview. Prepare yourself for the interview by having an idea of the questions you may face and impress the interviewer.