Top 50 SEO Interview Questions and Answers Guide 2023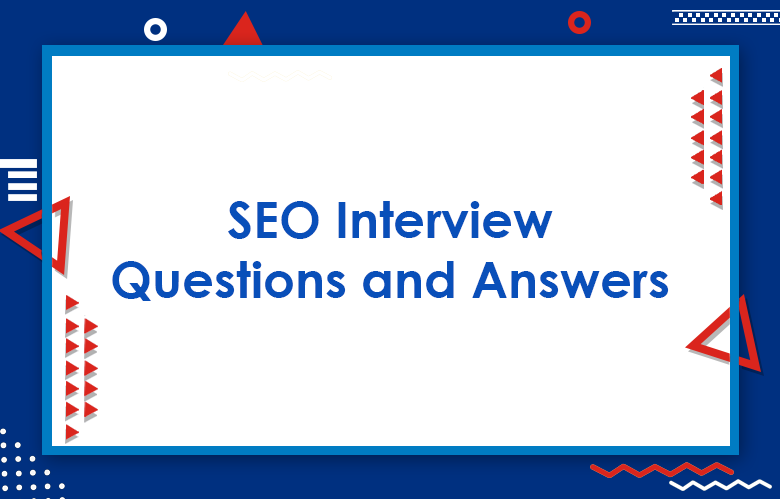 SEO or search engine optimization is the key to success in content marketing, getting traffic to a website, and achieving goals in a social media campaign. It isn't easy to interpret the functionality of SEO. A career in SEO is lucrative. Let us see some SEO Interview Questions that a candidate might face.
SEO Interview Questions
1. What is SEO?
Search engine optimization is the activity performed to improve a product, service, video content, or website's search engine ranking. This is one of the important and frequently occurring SEO interview questions.
2. How important is SEO?
SEO is essential for getting more traffic to websites. Visitors usually pay attention to the first five rankings of search engines. Thus companies want to rank higher and depend on SEO to achieve this.
3. What is the search engine?
There is a load of information on the World Wide Web and search engine; a web-based software system helps search and locate specific information.
4. What are a few popular search engines?
Google is the number of search engine, and other popular search engines are Bing, Yahoo, Baidu, etc.
5. Who founded Google?
Larry Page and Sergey Brin.
6. When was Google founded?
Google was founded in 1998 on 4th September.
7. Who invented WWW?
World Wide Web was invented by Tim Berners-Lee in 1989.
8. What is WWW?
It is an information system of internet servers containing HTTP-supported web pages located by URLs.
9. What is a domain?
The domain is a part of a network address. Email, website, SSH, IRC, and FTP internet protocol addresses are also included.
10. What do you mean by domain extension?
It is the notation at the end of a web address. It specifies the web category and country code.
11. What is a website?
It is a collection of web pages. Websites are identified with a web address of the domain name.
12. What is the web server?
It is a computer program with an IP address and domain name. When it receives the request via HTTP from users, it displays web pages.
13. What is web hosting?
Web hosting is the service that provides peace to websites.
14. What is indexing?
Search engines use crawling to collect pages relevant to search terms and create the index. It is the most common one in the SEO interview questions.
15. What is SERP?
The search engine displays the search engine result page or SERP for a specific search query. We can also see advertisements on this page.
16. What is an organic result?
The organic result is also known as the free or natural result. When the user enters a search query, a relevant web page listing is displayed, which is the organic result. Getting a higher rank in these results is the purpose of SEO.
17. What are paid results?
Organic results are free, and sometimes some websites pay Google to display their websites for specific search queries. This is paid result.
18. What is Google Suggest?
When a user enters a search term in Google, Google shows associated terms in a drop-down menu. This is called Google Suggest.
19. What is On-Page SEO?
On-page SEO is optimizing any web page's content and HTML source code, including the title tags, Meta tags, and headline tags. This is the most frequently asked one in the SEO interview questions.
20. What is Off-Page SEO?
Content marketing, social media, link building, and other promotional activities to influence the search ranking of websites are called off-page SEO.
21. What is a keyword?
Keyword in SEO is the words included in the web content that helps the user to find the specific website with search terms entering the search engines.
22. What is the long tail keyword?
Long-tail keywords are the particular search result giving a phrase that may contain more than four words.
23. What are LSI keywords?
Latent Semantic Indexing is LSI keywords that are semantically associated with main keywords.
24. What are Heading Tags in SEO?
Heading tags separate heading and subheadings in web page content, and there are six heading tags.
25. What is the Page Title?
A page title or title tag describes the web page's content and appears above the URL in search results.
26. What is a URL?
Uniform Resource Locator is the term used for web addresses. These contain internet protocols and the IP addresses of the host.
27. What is an SEO-friendly URL?
SEO-friendly URLs improve the indexing process of search engines by optimizing the structure and word usage in URLs.
28. What are Meta descriptions?
Meta descriptions or HTML attributes provide an accurate description of web page content.
29. What do you mean by backlinks?
Backlinks are the links that take users from one web page to another. The more the backlinks to a page, the more the search engine considers the page relevant to the search term.
30. What is internal linking?
Internal linking directs visitors from one web page to another on the same website.
31. What are inbound links?
Inbound links, incoming links, or backlinks are the hyperlinks that direct the users from a third-party web page to a web page of your own.
32. What is the importance of backlinks in SEO?
Higher relevancy backlinks are considered quality backlinks by search engines, bringing more referral traffic to a website and improving web page ranking.
33. What are the factors that affect Google's Ranking?
Content, backlinks, and Rankbrain are the factors that affect Google's ranking.
34. What are 404 errors?
When a URL is renamed or if it becomes nonexistent, the links connected to the URL result in 404 errors.
35. What is Google Analytics?
Google Analytics is the analytical tool introduced by Google to help track the traffic on websites.
36. What is Google PageRank?
Google PageRank determines the relevancy of web pages based on the quality of backlinks.
37. What is search engine submission?
A website can be directly submitted to a search engine for increased visibility and online recognition, called search engine submission.
38. How much necessary is search engine submission?
Search engine submission is unimportant as major search engines follow links to crawl and index pages.
39. What is social bookmarking?
It is a way of storing, searching, managing, and organizing web page bookmarks, another commonly seen SEO interview question.
40. What is social networking?
Expanding contacts and business using social networking sites such as Twitter, Facebook, and LinkedIn is called social networking.
41. What is an RSS feed?
Rich Site Summary or RSS is changing the web content delivery format.
42. What is guest posting?
Guest posting is creating content on another person's blog or site.
43. What is Google My Business?
Google My Business is a valuable business tool for managing the business's online presence and is used by brands, individuals, and companies.
44. What are the uses of Google My Business?
It updates business information, adds photos of the business, connects with customers, and monitors Google reviews.
45. Name some popular SEO Blogs?
Search Engine Watch, Journal, Content Marketing Institute, Kissmetrics, HubSpot.
46. Name some popular SEO Tools?
Google Webmaster Tools, Google Analytics, Bing Webmaster Tools, Keyword Planner, etc.
47. What is keyword density?
The keyword density is the percentage of times a keyword is found on the web page.
48. What is keyword frequency?
This is the number of times a keyword appears on a web page.
49. What is ccTLD?
Country Code Top Level Domains.
50. What is Alexa's rank?
The rank is given by Alexa.com to a website based on traffic.
The above are only a few SEO interview questions that a candidate may face. Go through the above SEO interview questions, which might prove helpful and give you the confidence to face the interview.