YouTube Platform Glossary : 275+ YouTube Advertising Terms & Definitions You Need to Know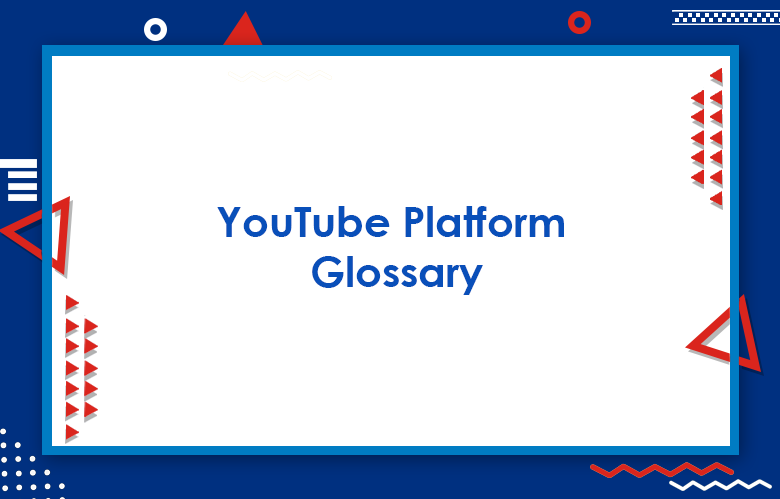 YouTube Platform Glossary: For many marketers, it is pretty standard that upload a video on YouTube, caption the images with hashtags on Instagram, post a tweet on Twitter and post on Facebook, etc. But each social media platform has a unique way of style in engaging the audience. YouTube is the supremacy of video streaming platforms. Most business brands compete to reach the audience watching pulse using video content, and YouTube has become the only source to drive business sales. Instead of implementing standard practices, it is essential to execute the best practices.
You may have seen that YouTube videos are captioned with different titles, descriptions, hashtags, etc. In the back end, as the marketer, you might concentrate on finding the analytics, SEO and CTR, etc. These are the most important terms that help in engaging the audience. But in the same way, you are primarily unfamiliar with several hidden words, which can be termed a YouTube glossary. The comprehensive list of YouTube glossary terms will let you track the performance of the business.
YouTube Platform Glossary: 200+ YouTube Advertising Terms
Annotations
Accelerated Delivery
Account
ad
ad
Ad Completion
Ad Customizers
Ad Extensions
Ad Fraud
Ad Group
Ad Preview and Diagnosis Tool
Ad Rank
Ad Rotation
Ad Schedule
Ad Strength
Add Observation
AdMob
Affiliate Location Extension
Aggressive Targeting
All Conversions
AMA
App Extension
App Install Conversion
App Users
A-roll
Assisted Conversion
Attribution
audience retention
Audiences
Automated Rules
Automatic Placement
Auto-tagging
avatar
AVD
Average Position
Branding
Behavioral Targeting
Bid Adjustment
Bid Strategy
BLOG
Bot
Brand Lift
branding watermark
Broad Match
Broad Match Modifier
B-roll
Budget
Bulk Operations
Bumper Ad
Bumper ads
Call Extension
Call-only Ad
Call-out Extension
Campaign
Campaign Groups
captions
CC
Change History
channel art
channel authority
channel header
channel homepage
channel page
channel watermark
Click
clickbait
Close Variant
closed captions
collab
Columns
community page
community tab
Conservative Targeting
Contextual Targeting
Conversion
Conversion Category
Conversion Rate
Conversion Value
Conversion Window
Cost
Countdown
CPA
CPC (Cost per Click)
CPCV
CPE (Cost per Engagement)
CPI (Cost Per Install)
CPM (Cost per Thousand)
CPV (Cost per View)
Creative Commons
Creator Studio
Cross-device Conversion
CTA
CTR (Click-Through Rate)
Customer Emails
Customer Match
Demographics
Default Bid
Delivery Method
Demographics
Display Advertising
Display Keywords
Display Planner
Display Targeting
Display URL
DATE
Do Not Optimize
Drafts
DSLR
Dynamic Ad
Dynamic Keyword Insertion
Dynamic Remarketing
Dynamic Search Ad
Events
Earned View
Editor
Effective CPM
Enhanced CPC
Evergreen videos
Exact Match
Exact Match Impression Share
Experiment
Featured content
Filter
Final URL
First Click
Frequency Cap
Geo tagging
Geotargeting
Gmail Ad
Google AdSense
Google Analytics
Google Display Network
Google Forwarding Number
Google Merchant Center
Google Search Network
Google Search Partners
GRWM
haul
In-stream video ads
Image Ad
Impression
Impression Share
In-app Conversion
influencer
In-Stream
Interaction Rate
Interactions
Interests
Invalid Clicks
Keyword
Keyword Planner
KPI (Key Performance Indicator)
Linear Video
Label
Language Targeting
Last Click
Linear Attribution
Location Extension
Location Targeting
Long-tail keywords
Lost Impression Share
Mid Roll
Manager Account
Match Type
Maximize Conversions
Maximize Lift
Message Extension
Mobile Bid Adjustment
Mobile Speed Score
Native Video Ads
Narrow Targeting
NAS
Negative Broad Match
Negative Exact Match
Negative Match
Negative Phrase Match
Network
Non-skippable ads
Notes
OTT
Offline Conversion
OOTD
Optimize
Playlists on Youtube platform
Parental Status
Phrase Match
Physical Location
Placement
Placements
Position Based
PPC
Price Extension
Product Group
profile picture
Programmatic Ad Buying
Programmatic TV (PTV)
Promotion Extension
Quality Score
Quartile
RTB
Radius Targeting
Real-Time Bidding (RTB)
Recommendations
recommended videos
Remarketing List
Remarketing Lists for Search Ads
Responsive Display Ad
Responsive Search Ad
Retargeting (Remarketing)
ROAS
RPM
Shoppable ads
Script
Search Query
Segment
Seller Ratings Extension
SEO
session watch time
Shared Budget
Shared Library
Shoppable Image Ad
Shopping Campaign
short tail keywords
Showcase Shopping Ad
Site Category Options
Sitelinks Extension
Skippable Pre-Roll
Skyscraper
Smart Bidding
Smart Shopping Campaigns
Standard Delivery
Standard Pre-Roll
Status
Structured Snippet Extension
sub for sub
subtitles
Trending
Tags
Target Audience
thumbnail
Time Decay
Top Content
Topics
Tracking Template
trending
TrueView
TrueView ads
TrueView In-stream
TrueView Video Discovery Ad
User Content ID
unboxing
Unique User/Device ID
Universal App Campaign
unweighted score
USP
UVR
ValueTrack
VAST
vCPM
video card
video content
video impressions
video watch page
View
Viewability
Viewable Completion
Viewable CPM
Viewable Impression
View-through Conversion
viral
VLOG
vlogmas
Watch later
watch page
watch time
Website Visitors
weighted score
YouTube
youtube algorithm
youtube channel homepage
youtube channel page
youtube homepage
YouTube Studio
YouTube Users
YouTuber
YT
Conclusion:
We all know that an image speaks more than 1000 words, but a video is worth 1.8 million, says the research by Forrester. The rise of video advertising has let businesses implement strategies by reaching the most engaging channels like YouTube. To enhance business performance, knowing the YouTube glossary terms is essential.