Social Media Monitoring Glossary : 200+ Social Listening Terms & Definitions You Need to Know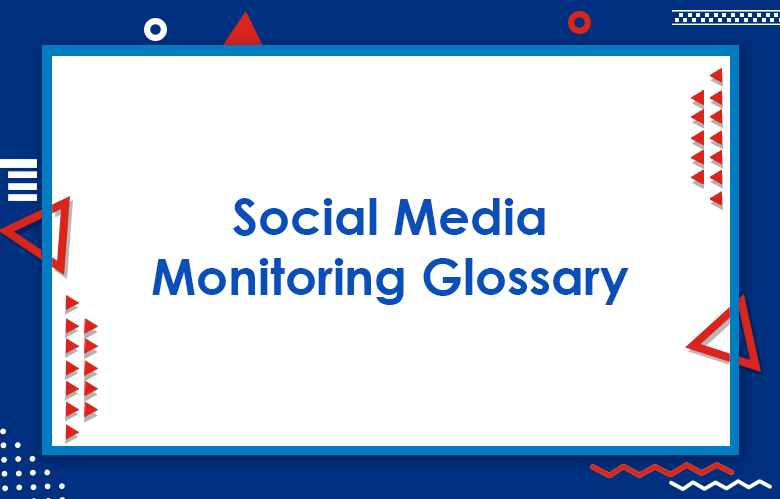 Social Media Monitoring Glossary: Social media is the #1 marketing industry for businesses in the global market. Also, it has become a significant player in the day-to-day lives of the consumer, either it may be buying the products or services or searching for a particular brand.
Moreover, social media monitoring can help measure the metrics and trending products, services, and businesses.
Social media channels like YouTube, Facebook, Twitter, Instagram, Snapchat, etc., are playing a vital role in engaging the audience and letting the business brands find the sales conversions, which is not easy.
The only thing the marketers can do is developing effective social media ad campaigns that can help the brands to improve performance growth.
Also, the number of giant social media channels, as we discussed before, are competing with each other and trying to execute innovative ad campaigns.
To reach the expectations of the audience and social media platforms, one should need to know the craving terms, which can be a social media monitoring glossary.
Social Media Monitoring can help track what people are saying about your brand, competitor, or products/services. Social Media Marketing is essential in today's day and age because it allows you to engage with your target audience in real-time.
Social Media Monitoring is critical to professionals who want to remain competitive in this marketplace. Social Media is the primary source of company news that affects the stock values of businesses.
Social media monitoring is an essential component of online marketing that is often overlooked by small and medium businesses.
Social Media Monitoring Glossary: 450+ Social Listening Terms & Definitions
#Hashtag
Application programming interface (API)
A/B test
Alert
Algorithm
Analytics
Artificial intelligence (AI)
Audience
Audience Analysis
Avatar
Backlink
Benefit-cost analysis
Big Data
Bio
Bitmoji
Blog
Blogger
Boolean logic
Boolean Search
Bots
Brand advocate
Brand affinity
Brand Authority
Brand Awareness
Brand engagement
Brand Health
Brand Monitoring
Brand tracking
Brand visibility
Business-to-business
Business-to-business (B2B)
Business-to-consumer (B2C)
Caption
Chatbot
Clickbait
Click-through rate
Click-through rate (CTR)
Communication Channels
Community Management
Competitive Analysis
Competitive intelligence
Competitor analysis
Competitor monitoring
Consumer Insights
Content Curation
Content management system
Content Marketing
Conversion
Cost per click (CPC)
Cover Photo
Crisis management
Crisis Monitoring
Customer relationship management
Dark Social
Dashboard
Demographics
Direct Message (DM)
Disappearing Content
Earned Media
E-commerce
Embedded Media
Emoji
Employee Advocacy
Endorsement
Engagement
Engagement Analysis
Engagement Rate
Facebook
Facebook Fan
Facebook Group
Facebook Live
Facebook Pixel
Facebook Reach
Fan
Favorite
Feed
Follower
FOMO
Foursquare
Geolocation
Geotag
GIF
Google
Google alerts
Google+
Handle
Hashtag
Historical Data
Inbound marketing
Inbox
Influence marketing
Influencer
Influencer marketing tools
Influencers
Instagram
Instagram Stories
JOMO
Key performance indicator (KPI)
Keyword Cloud
KPI
Like
LinkedIn
LinkedIn Endorsement
LinkedIn Recommendation
Listening
Livestream
Lookalike Audience
Market research
Marketing Automation
Marketing research
Meme
Mention
Mentions
Messenger
Metadata
Microblogging
Monitoring
Mute
Natural Language Processing
Notification
Omnichannel Marketing
Organic Reach
Owned Media
Paid Media
Pay-per-click
Periscope
Pin
Pinboard
Pinned Post
Pinned Tweet
Pinterest
Post
Private message (PM)
Promoted Tweet
Pull marketing
Purchase Intent
Quora
Reach
Reaction
Real-time marketing
Reddit
Regram
Repin
Reply
Report
Repost
Retargeting
Return on investment
Retweet
RSS
RSS feed
RSS reader
Scheduling
Search engine marketing (SEM)
Search engine optimization
Selfie
Sentiment
Sentiment analysis
SEO
SERP
Share of Voice
Shortlink
SlideShare
Snapchat
Social Listening
Social listening tools
Social Media
Social Media Analytics
Social media listening
Social media listening tools
Social Media Mining
Social media monitoring
Social media monitoring tools
Social media optimization
Social media platforms
Social Media ROI
Social media tracking
Social Mention
Social mentions
Social monitoring
Social networks
Social platforms
Social Selling
Social tracking
Software as a service
Spam
Sponsored Post
Sponsored posts
Sticker
Stories
Subreddit
Tag
Targeting
Terms of Service
Thread
TikTok
Timestamp
Traffic
Trend
Trending
Troll
Tweet
Twitter
Unfollow
Unfriend
Upvote
URL
URL shortener
User experience
User-Generated Content
Vanity Metric
Verified
Verified account
Viral
Voice of Customer (VOC)
Webinar
WhatsApp
YouTube
Advantages of Social Media Monitoring
Real-time monitoring
Targeted Audiences
Cost-effective
It is easy
You do not need a lot of time and money
It is not expensive
It provides structured data
Social listening can help in customer service improvement
Know your audience better
Easier to engage with people
It helps with SEO
Helps distinguish between good and bad quality content
Helps in measuring the ROI of the social media channels
It helps marketers to understand the brand reputation of the company
It allows to analyse competitors' action
It provides possibility to receive user opinions and feedback
It helps to monitor popularity of your brand
It allows to proofread customer support team
Helps monitor trends
Helps in targeting customers
Collects and collates data
Provides top quality information
You can monitor positive comments
You can monitor negative comments
You can monitor what is trending (Your competitors!)
Monitoring will improve your social media management
Social media monitoring helps to understand your customer
Monitor for brand mentions and keywords
Social media monitoring software is easy to use
There is flexible access
You can easily get analytics regarding your monitoring efforts
It is a whole lot of data
It monitors everything that is being published online
Easy to operate by almost everyone
It helps in planning of further marketing
There are widgets available for display on various websites
Get your brand name noticed
Gain useful feedback from customers
Update your followers with sponsored content
Monitor negative and neutral conversations
Stay on brand
Get alerts of Brand mentions
Find Competitor's Brand mentions
Track any topic, hashtag or keyword
Save time with the reports and filters capabilities
Accurate analytics
Multiple audience insights
Prevent social media disasters
To Build a better relationship between your brand and your audience
Monitoring social media provides you with insight into their behavior
This helps to increase sales opportunities
Gives you access to loyal customers' insight
Measure social media performance of brands
To find strengths and weaknesses of your competitors
Identify threats and opportunities
Monitor for social media marketing trends
Helps you find key insights
Add value to what you do
Helps manage Social Media Crisis
More ROI
Online reputation protection
Save time and money
Time is money
Assist in customer retention
Cost-effective as it's a free tool
Eliminates "blind spots"
Helps to identify brand advocates
Provides useful data for reporting, research and trending
Expose problems early
Increase ROI
Get helpful insights for your business
Drive traffic to your website
Measure your success more accurately
Takeaway:
Social Media Monitoring platforms can give you an insight into what people think about you online.
Get the word out about your business and defend against competitors.
Social Media Monitoring is a powerful tool for better understanding your customers' voices and listening to what they are saying.
Businesses are now paying close attention to social sentiment (positive or negative) towards their brand.
This is the online equivalent of having a broken window and fixing it before the problem gets out of hand.
So don't be left behind, monitor your reputation using social media, and take steps to rectify before any damage occurs!
Social media monitoring allow businesses to get more out of their efforts, tracking the competition and staying on top of trending topics.
There are so many places to find and listen to prospects. Social media monitoring is one way to increase the chances that you listen to the right ones!
Use social media listening to stay ahead of the customer's needs.
Please don't skip the basics; they're an essential part of your social media strategy.
Gain actionable, customer-centric insights from social media.
Social media monitoring lets you get a bird's-eye view into what is trending in the industry and what people think about your brand.
You can use social media monitoring to report on your competitors' social media activity.
Conclusion:
All social media channels are not similar, and marketers need to explore their marketing skills on social media. This can be done when you are a social media monitoring expert, and to do that, one should look at the comprehensive list of the terms mentioned earlier.