What is a Digital Marketing Side Hustle?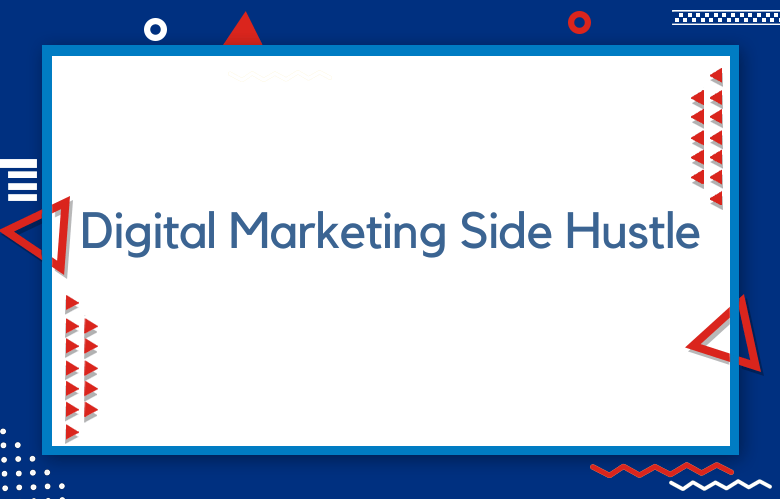 In today's interconnected world, digital marketing is essential for any business to thrive and stay relevant. As a result, there is a growing demand for skilled digital marketers to help companies achieve their goals online.
If you have a passion for marketing and are looking for a side hustle that can earn you extra income, then starting a digital marketing side hustle may be the perfect opportunity.
We'll explore how you can get started with your digital marketing side hustle, even if you have yet to gain experience in this field.
What is a Digital Marketing Side Hustle?
Thanks to the internet, endless opportunities exist to earn extra money. Digital marketing has become a popular side hustle, allowing you to utilize your marketing skills to earn extra cash.
Digital marketing side hustles can range from social media management to email marketing, and they can be done remotely from your own home.
We'll explore digital marketing side hustles, their benefits, and how to start your own.
A digital marketing side hustle is a way to earn extra income while utilizing your marketing skills.
A side hustle in digital marketing can involve various tasks, but most commonly, it involves social media management, blogging, email marketing, and content creation.
These tasks can keep you busy and bring in extra income while maintaining a full-time job or other commitments.
Digital marketing side hustles can often lead to long-term careers in the industry – an industry in high demand.
How to Start a Digital Marketing Side Hustle
To start a digital marketing side hustle, you need a basic understanding of marketing concepts and skills.
The most common digital marketing skills include social media management, copywriting, content creation, email marketing, and SEO. Once you have the required skills, you should start building your online presence, developing a portfolio, and looking for potential clients.
There are many platforms, like Upwork, Fiverr, and Freelancer, where freelancers can showcase their services and find clients. You could also use social media, LinkedIn, and blogging to build your network and attract clients.
Making extra Money with Digital Marketing Side Hustles
Do you need extra cash but don't want to commit to another job? Finding a side hustle is a fast-growing trend allowing you to earn money without changing your work routine.
With the growing importance of the internet, digital marketing is becoming a popular way for individuals to start a side hustle. We will explore how you can make extra money with digital marketing side hustles.
Best Practices for Digital Marketing Side Hustle
Identify your niche
The first step in starting a digital marketing side hustle is identifying your niche. Digital marketing is a broad field that covers a wide range of topics, including social media marketing, email marketing, content marketing, paid advertising, and more.
To get started, it's essential to pick a specific area of digital marketing that aligns with your interests and skills. For example, consider focusing on content marketing if you love crafting compelling stories and creating engaging content.
Build your skills and knowledge.
Once you've identified your niche, it's time to build your skills and knowledge in that area. Many online resources are available to help you learn about digital marketing, such as online courses, blogs, podcasts, and YouTube channels.
Also, consider attending local meetups and conferences to network with other digital marketers and learn from industry experts. The more you know, the more valuable you'll be to potential clients.
Build your online presence.
Building a solid online presence is essential to attract clients for your digital marketing side hustle.
This might include setting up a website or blog to showcase your expertise, creating social media accounts to connect with potential clients, and developing a portfolio of your work. Consider offering free or low-cost services to build your portfolio and get some experience.
Start pitching your services.
With your skills, knowledge, and online presence in place, it's time to start pitching your digital marketing services to potential clients. Start by contacting your network of friends and family and see if they know anyone who could benefit from your services.
Also, consider cold-emailing or cold-calling potential clients to introduce yourself and pitch your services. Be sure to highlight your unique selling points and how you can help them achieve their goals.
Keep learning and growing.
It's essential to keep learning and growing as a digital marketer. The digital marketing landscape is constantly evolving, and there are always new tools, techniques, and trends to keep up with.
Stay up-to-date with industry news and trends, experiment with new strategies, and continue to build your network and portfolio.
Different Ways You can make extra Money with Digital Marketing Side Hustles
Social Media Management
Social media management is a very in-demand skill, and every business needs to maintain a social media presence these days. Offering your services on websites such as Upwork, Fiverr, or Freelancer can provide an additional income stream.
You can help manage social media accounts by creating and scheduling posts, promoting content, and building an audience. Learning how to use social media management tools such as Hootsuite can also boost your market value.
SEO Consulting
Search engine optimization (SEO) is vital for businesses to rank higher in search engine results.
If you have a background in SEO, you can offer consulting services to small businesses and startups.
You can review their website, provide keyword research, and optimize their content to help them rank higher on search engines. Consulting services can be offered on freelancing platforms or by creating your website and promoting your services.
Affiliate Marketing
Affiliate marketing is a type of marketing where you earn a commission by promoting products from a company. You can earn a commission on every sale made from that link by placing a unique link on your website, social media, or email campaigns.
Many affiliate networks exist, such as Amazon, ShareASale, and Commission Junction. You can also research and promote products that fit well within your niche on your website or social media profiles to earn a commission.
Blogging
Starting a blog in a niche can be a great way to earn extra cash. Once you build a strong readership, you can monetize your blog by displaying ads through Google AdSense or affiliate marketing.
You can also create and sell your products, sell sponsored posts, or offer consulting services within your niche area.
Digital Storytelling
By leveraging your creative skills, you can offer services to businesses such as creating video content or designing infographics.
You can also offer services like writing articles and content creation, as quality content is always in high demand.
Conclusion
Starting a digital marketing side hustle can be a great way to earn extra income and pursue your passion for marketing.
By identifying your niche, building your skills and knowledge, building your online presence, pitching your services, and continuing to learn and grow, you can create a successful digital marketing side hustle that allows you to work on your terms and supplement your income.
Remember to be patient and persistent, and don't hesitate to ask for help or advice. Good luck!