Automate Your Marketing Workflows and Eliminate Tedious Tasks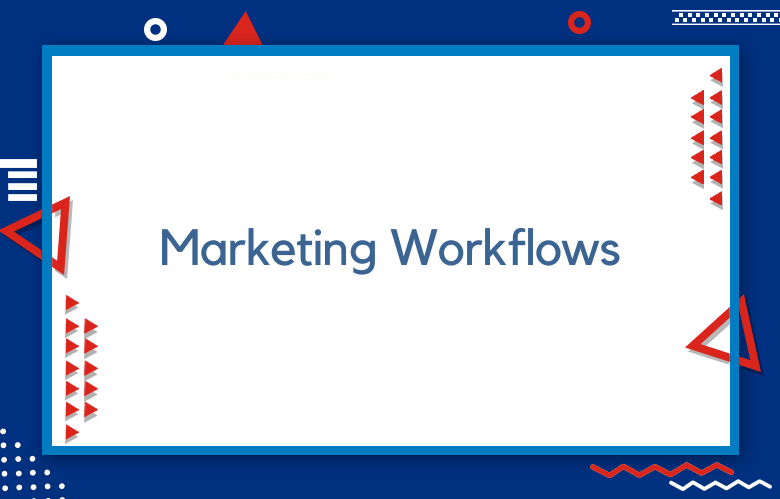 Marketing can be an exciting field, but it can also be very time-consuming, especially if you have a lot of repetitive tasks that you need to perform. Fortunately, you can make your marketing tasks much less hectic by automating them.
In the digital age, where we have countless tools and software, you can enhance your productivity using automated workflows. It will help you learn how to leverage automation to streamline and optimize your marketing efforts.
What are Marketing Workflows and Eliminating Tedious Tasks?
Marketing is an essential part of any business. It is how to reach your target audience and build a solid customer base. But marketing campaigns come with tedious tasks, from managing email lists and creating social media posts to tracking analytics.
The good news is that these tasks can be automated using workflows. We will discuss marketing workflows, how they work, and how they can help eliminate tedious marketing tasks.
Marketing workflows are sequences of tasks that automate and streamline marketing processes.
They can include email campaigns, lead generation, and Social media scheduling. With workflows, you can create a smooth task process that ensures all marketing activities are completed efficiently and consistently.
How to Automate Your Marketing Workflows and Eliminate Tedious Tasks
In modern business, marketing is a critical part of any successful operation. However, running a business is also one of the most time-consuming aspects.
Thankfully, there's a solution that can help you get more done with less time and effort.
Marketing automation is a potent tool that can help you automate tasks, streamline your workflows, and free up your team to focus on more important things.
We'll explore the benefits of marketing automation and how it can help you to achieve your goals.
Understanding Marketing Workflows
Marketing workflows are a series of connected steps structured to effectively deliver a service or product. These workflows are essential for any marketing strategy since they help create a more organized and systematic approach to the marketing process.
Marketing workflows often contain different tasks that need to be accomplished to achieve a particular marketing objective. These workflows can be automated and optimized to improve efficiency and eliminate tedious tasks.
Importance of Monitoring and Updating Workflows
Marketing workflows are not set in stone; they can be optimized to improve efficiency and effectiveness. Thus, monitoring and updating workflows to ensure they remain optimal and relevant to your business goals is critical.
Businesses should regularly evaluate their workflows and make changes to enhance their performance. Moreover, feedback from the marketing team and customers can help identify problem areas that need improvement and optimization.
Streamline Your Marketing Tasks with Workflow
As a marketer, the job is no longer just about creating engaging content or launching campaigns. Equal parts creativity and operational savvy, the workflow of modern marketers can be overwhelmingly complex.
Organized workflows and streamlined teamwork are paramount to managing everyone from content teams to paid media and creative agencies to automate social media publishing.
We will explore how marketing workflows help the team, how good workflows help eliminate tedious tasks, and some tools to use to get things done.
Imagine that your day-to-day marketing tasks become less tedious and more efficient, allowing you to create more value for your business rather than stressing about all the little things. In essence, that's the goal of effective marketing workflows.
Boost Your Marketing Strategy with Automated Workflows
Marketing can be exciting and creative but requires much energy and time. As a marketer, you likely encounter tasks that take significant time but add little value to your strategy.
With automated workflows, you can reduce manual tasks, increase efficiency, and allow more time for meaningful and impactful work.
We will discuss what marketing workflows are, how they eliminate tedious tasks, and how automating workflows can revolutionize your marketing strategy.
Here are Some Examples of how You can Automate Your Marketing Workflow
Email Marketing
Automate your welcome email series and lead nurturing campaign.
Social Media
Automate your social media scheduling and analyze performance.
Lead Management
Automate lead distribution, lead scoring, and lead follow-ups.
Reporting
Automate Report Creation for a Wide Range of Marketing Activities
Define Your Marketing Goals and Objectives
Before automating your marketing tasks, you must know what you want to achieve with your marketing campaign.
Your objectives could range from generating leads, increasing conversions, driving traffic, or increasing brand awareness.
Once you have identified your specific needs, you can customize your workflows to cater to those requirements.
Identify Repetitive Tasks
Replication can significantly hinder your marketing workflow, so identifying and automating the tasks that consume your time can free up more energy and focus.
Tasks like scheduling social media posts, creating newsletters, or generating reports can be automated or delegated to software. That way, they no longer require your attention, freeing you to concentrate on high-priority tasks.
Choose the Right Tools for Your Marketing Workflow
When you automate your marketing workflows, you will rely heavily on software and applications. Therefore, choose your software wisely to ensure that you get precise results.
You can use a combination of various marketing tools and software to achieve diverse objectives, from lead generation campaigns to customer engagement initiatives and even sales automation.
It's essential to research and analyze the software you wish to use to ensure you find the right tools for your needs.
Set Up a Lead Generation Workflow
Developing an effective lead-generation workflow is one of the best ways to enhance your marketing. You can use software to create landing pages, set up lead capture forms, and nurture new leads.
An effective lead-gen workflow generates more high-quality leads and avoids the time-consuming and tedious process of tracking them manually.
Implement Marketing Campaign Analytics
Ensuring your campaigns are effective means analyzing the feedback you are receiving from your customers.
Automating the analytics can help you better understand what's working and what's not. By automating the analysis of the campaigns, you get more precise data that will help you improve future campaigns.
Conclusion
In conclusion, marketing automation can save time and money and increase your team's productivity. By streamlining your marketing workflows, you can focus on the more important business aspects.
Combined with the right strategy, it can help you win big in a competitive digital marketplace. Now that you have learned the basics of automated workflows, all that remains is to start automating repetitive tasks and developing more productive and effective workflows.