How to Focus Your Digital Marketing Strategies for Millennials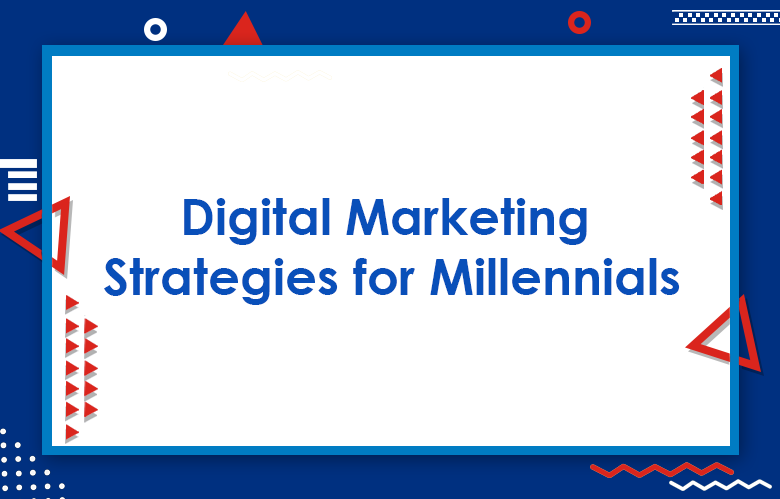 Many companies or business houses have experienced difficulties in connecting with the people of the millennial generation. People aged between 18 and 34 years are usually designated as representing the millennial generation. They are high on gadgets and the web.
Hence, they are tech-savvy people who can adopt emerging technology. When such people enter the market to buy a commodity, they go by their perceptions. This is something their parents, grandparents, and the generations before did during their heydays.
However, the buying pattern is strikingly different for people from the millennial generation. Nowadays, most Millennials are spending more time on Snapchat. So keep the focus on Snapchat more.
Traits of the Millennial Generation
The companies selling their products need to contact these guys to educate them about the products. These people seldom read newspapers and periodicals.
Hence, they see no press advertisements coming in these traditional ways of disseminating information or news. Neither has they had the patience to watch television commercials. They don't prefer billboards, telemarketing, or traditional marketing techniques.
Instead, they would rather text or send a Facebook message to you than want to speak with you. They like to talk to you through a messenger or a call application rather than in person.
This generation's members will be severely affected by losing their phones or computers rather than their cars. They will be hooked on to the online community to engage in dialogue with people.
How to Market?
The millennial generation is now growing in strength. They have combined the purchasing power of over $2.50 trillion. This means that brands and retailers can do not have the capacity to ignore them.
So, they must inevitably access this generation by devising ways to reach them. The bulk of their purchasing would be done through their Smartphones. Reviews from online communities would influence Their purchase decisions.
So what must you do to sell to someone from the millennial generation? If you are a marketer and expect to continue as one, you must realize two things.
Digital marketing campaigns like email marketing with graphic designs, newsletters, white papers, etc., could be used to raise awareness.
The Millennials would discover things using the tools they feel comfortable with. They use smartphones, Snapchat, and other social media sites, online reviews, blogs, forums, etc., to obtain information
10 Digital Marketing Ideas for a Successful Crowdfunding Campaign
What is Crowdfunding:
It is the practice of funding a project or venture. The campaigners (who want to raise money for their plans) approach the individual or group of individuals who support and extend help to the project.
Then a moderating agency brings all the stakeholders together to launch the product. In other words, Crowdfunding is a form of alternative finance emerging outside the traditional financial system.
Crowdfunding has been finding an increasing level of acceptability. Crowdfunding has existed (of course, in other formats) for a long.
Earlier forms of Crowdfunding included book publishing, war bonds, etc.
Crowdfunding has been finding more acceptability (and success) through online promotion.
All the stakeholders (individuals who contribute to the project) must thoroughly know the online campaigns undertaken to ensure the crowdfunding campaign succeeds. Given below are some of the ideas in this regard:
1) Crowdfunding should start much before the campaign begins. As the words (about the project) have to spread, the marketer needs to ensure his presence on the online platforms much before the campaign.
2) Multiple platforms always have advantages rather than just one platform.
3) Getting better campaign traffic becomes another essential task for the marketer. The platforms can only provide information about the existence of traffic. However, the marketer has to ensure the diversion of required traffic to his channel.
4) Picking the right platform enables us to reach the targeted audience to ensure the project's success.
5) The power of social media can't be underestimated. An appropriate marketing mix strategy with suitable images and narrations is required.
6) Viral vs. Vibrant: Instead of getting a viral response to the video, the platform must offer consistent information (vibrant) to the investors, informing them about the happenings in the company.
7) Take the investors into confidence: The investors need more and more information, and that too updated continuously.
8) Understanding Crowdfunding is essential. It is equally vital that the marketer needs to keep pace himself. This can be done by involving his colleagues to take care of the backers for some time, and the marketer has to come back to his duty with more vigor.
9) Information to the backers about future campaigns is also required to keep them attached to the marketer's current campaign.
10) The campaign's conclusion is as important as running the campaign. The marketer must ensure that the backers are amply informed about the purpose and performance of the campaign.
As seen above, Crowdfunding is upcoming terminology catching wildfire in business circles worldwide.
10 Digital Marketing Mistakes to Avoid at All Costs
Digital marketing has become an integral part of the marketing strategy for most companies. Organizations have recognized the power of digital marketing and are paying significant attention to it. However, there is no guarantee that digital marketing campaigns are always successful.
The campaigns designed by most experienced marketers may fail to bring the desired results. Marketers must think about the most common mistakes people make in digital marketing and try to avoid them.
1. Launching a digital campaign without defining goals is a big mistake. Setting goals is essential to measure the success of the campaign. Without this, it is not possible to measure ROI.
2. The quality of the content may be high, but if it does not reach the right audience, the business is missing a great deal of opportunity.
3. Mobiles have become the most dominant online shopping platform; thus, marketers who overlook mobile may fail. Developing a mobile strategy will help to avoid this.
4. Ignoring email marketing is another mistake that should be avoided. Emails remain the best way to connect personally with consumers.
5. Not being active on social media is another mistake. Marketers must update their social media business page and interact with followers and fans to strengthen the bond.
6. When using hashtags on social platforms for more visibility, avoid using them too much, as this can be annoying.
7. Not proofreading the content is another mistake that may hurt the online presence of the marketer.
8. Always talking too much about the brand should be avoided. Know what the audience likes to watch, and you can reshare, or the audience will love to retweet posts you feel.
9. Keeping on posting the content online does not yield the desired results as the lifespan of the content is only a few days. Instead, focus on the quality of the material and create different variations to be more productive.
10. Not measuring the digital marketing campaign's success is another mistake. If the drive does not provide a result, the marketer can change it to reach the correct audience and achieve the goal.
10 Secrets for Making Your Digital Marketing Plan Stand Out
1. Replace old with new :
Go with content that is evergreen and new to the audience. The timely updates are essential to stand out from the crowd with your digital marketing content strategy.
Creating evergreen content for your digital marketing can help recreate the material whenever necessary for a new update. It can also make a big difference in your ROI.
2. Cut high costs :
If you are spending more on multiple digital marketing strategies, then it is a waste of money. You can pay for various methods only if those strategies meet your requirements, and you must have a solid chance to succeed. Make a wise move :
Utilize the different tools in social media marketing and go step by step carefully to reach your targets.
4. Do research :
Research on different strategic plans is fundamental to reaching the potential audience with the proper procedures.
5. Build strong interaction :
Don't forget to build strong interactions with the customers and audience, which can enhance your strategic plan and boost your digital marketing efforts online.
6. Trends :
Trending topics play a vital role in search engine results and rankings. To capture the latest trends and create content by including patterns. Also, try to create a new trending event.
7. New features in SMM :
Utilize different functions on different social media platforms for social media marketing in this digital world. Utilize the Reactions feature on the Facebook platform to share reactions based on the posts.
8. Create the best content :
Approach the right copywriters who deliver the best relevant, unique, and straightforward material. The content can help you stand out, depending on the quality.
9. Community :
You are building your community, and joining different online communities relevant to your niche can help you make a good audience base.
10. SEO
Please do what you require from the SEO, leave the unnecessary things, and spend it correctly for essential items.
10 Things You Need to Know About Startup Digital Marketing
Marketing is critical for any business to build its brand and increase sales. Most companies invest crores for marketing and to increase the value of their products.
But it may not be possible for startups. Digital marketing helps them to reach potential customers quickly and to increase sales. Before implementing any digital marketing strategy for startups, one should know a few things.
1. The first thing is to see the product better. Identify potential customers.
2. Multiple digital marketing channels can be used to reach your target customers. It would be best to make your presence felt on social sites, search engines, etc.
3. Use search engine optimization and paid ads to acquire traffic and increase leads.
4. Display advertising online can also help attract customers' attention.
5. Use the remarketing technique to reengage the customers. This can be done on the Google display network, Twitter, and Facebook and search for ads.
6. Social media advertising helps increase awareness and customer acquisition. Promoting on social media can benefit startups in driving traffic to their sites.
7. Use Snapchat for brand promotion. This is a compelling medium to attract young customers. There are crores of active users on Snapchat, and it can use effectively for the marketing needs of startups.
8. Create content that customers are sure to like and share. Content marketing can effectively make an impact on potential customers. Videos and blog posts are a few types of content.
9. Product marketing online is a way to spread the word about your product; there is no need to spend much to achieve this.
10. Have a responsive landing page.
There are many ways startups can use digital marketing for brand building. If you are ready to spend money, digital media buying from significant publishers, sites, and online magazines can be done, giving instant business exposure.
How to Implement Social Amplification in Digital Marketing
Social amplification is a process in which social media carries the content in waves. Social amplification is the ultimate aim of the material in digital marketing. Social amplification aims to increase the material's visibility through word of mouth.
There are many channels for amplification, including employees, customers, relatives, suppliers, financial supporters, etc.
Each person has a social network, and he can multiply the impact of the content by promoting it on his social network.
Social amplification can start in the house for the digital marketer. Marketers can encourage their employees and customers to apply the content. The excellent service and the best product the marketer offers can get amplified when the user is satisfied.
Another method of implementing social amplification is through influencer marketing.
Influence marketing is the best tool many brands use today – both traditional and digital. Endorsement by influential voices will have an impact on the content.
Influencer marketing can be either organic, paid, or a mix. While organic influencer marketers are connected with the industry, and most of them are noncompetitors.
Naturally, organic influencer marketers will have a genuine interest in the product. Paid influencers, on the other hand, will be endorsing the content for some compensation.
Another powerful tool of social amplification is paid amplification through social networks. This network is pervasive and is increasing its importance every day. As we all know, the social network is powerful media.
Almost all consumers will have a connection with some network or the other.
Hence, paid amplification through the social network will extend its support in implementation. Social media like Facebook, Twitter, and Instagram are some channels where paid amplification is possible.