100+ Marketing Tasks Every Brand Should Automate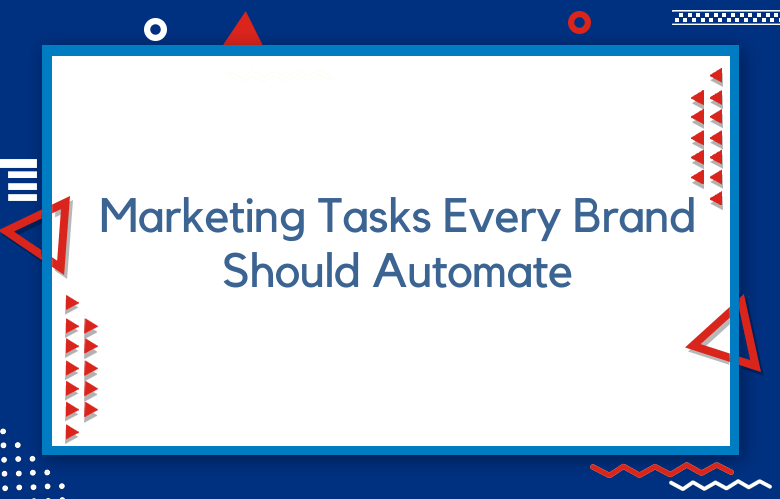 Marketing Automation: A Comprehensive Guide to Automating 100+ Marketing Tasks.
As a brand or business owner, countless marketing tasks must be accomplished daily. The list can be daunting and overwhelming, from social media strategies, email marketing, and website optimization to campaign tracking and data analysis.
It's common to feel like you're getting behind on tasks or paying more attention to menial activities than the overall strategy. Fortunately, marketing automation has made it easier to handle these tasks like a pro without losing sight of your goals.
In this comprehensive guide, we've compiled over 100 marketing tasks perfect for automation for small and large brands.
100+ Marketing Tasks Every Brand Should Automate.
Marketing can be challenging and time-consuming, especially when keeping the latest technology and trends. Keeping up in the ever-changing marketing industry can often take up much of your time that could be spent generating new leads or improving your brand's image. That's precisely why automating your marketing tasks is becoming an increasingly popular choice for businesses.
Doing so can take repetitive tasks off your plate and delegate them to your software to help save you time and increase your productivity. We've compiled a list of 100+ marketing tasks that every brand should automate to up their game and maintain a competitive edge.
I am tired of spending hours on tedious tasks that do not help your business. Let's automate! This post will show you 100+ marketing tasks every brand should automate.
I am starting this post to help marketers save time and automate tasks that take up hours of their day. This is a list of 100+ marketing tasks every brand should automate. I hope you find it helpful!
Marketing Tasks Every Brand Should Automate
Create a social media schedule
Send out automated emails regularly
Automatically post new blog posts to your social media accounts
Set up an autoresponder for email inquiries, sending them a link to your FAQ page or another helpful resource
Create a Facebook page and post regularly to it
Use Facebook Ads Manager to target your desired demographic
Set up an email newsletter that automatically sends out new content regularly
Automatically share blog posts with social media accounts like Twitter, Instagram, or LinkedIn
Creating and sending emails
Tracking conversions and reporting on them
Monitoring the competition's social media accounts for mentions of your brand or products
Scheduling posts to be published at a later date, time, or frequency
Create a social media strategy to automate posts, schedule posts in advance, and manage your followers
Set up email marketing automation to send out emails automatically based on customer actions
Use Google Analytics and other tools to track visitor data and optimize for conversions
Create a team to handle email marketing and customer service
Send out automated birthday messages to customers
Use automation software for data analysis and reporting
Automate your email marketing campaigns
Use a content management system to publish and update blog posts, social media, and other types of content without logging in multiple times per day.
Please set up an automated customer survey to collect customer feedback after purchasing or using the product.
Lead generation and lead nurturing
Sales automation
Schedule email campaigns to be sent at pre-determined intervals
Create a lead magnet via an autoresponder service, such as MailChimp or AWeber
Use automation tools like IFTTT or Zapier to connect your store's inventory with other services for shipping, payment processing, and more
Website maintenance and security updates
Setting up Google Analytics and tracking goals
Offer your email subscribers incentives to buy more products
Show your products in real-life situations
Start tweeting at relevant times
Schedule all your marketing tasks with an effective automated marketing plan.
Email marketing: Automating content for a company blog
2.2 Recurring email campaigns on a particular product or event
Lead Generation: Automating the generation of leads from your website
Content distribution
Monitoring the competition
Analyze your marketing performance
Database Segmentation Setup
Campaign Tracking Setup
Review Current Strategy
Engage With Influencers
Track Social Media Metrics
Analyze Competitor's Content
Monitor Blog Comments And Backlinks
Create email sequences
Conduct online research to generate ideas for your blog
Create review copies of books
Design email marketing campaigns tailored to different segments of your list
Scheduling Tweets
Responding to Comments
Replying to Emails
Keeping track of people who opt-in to your email list
Targeted Facebook ads
Repurposing content into multiple articles
Contest creation.
Content optimization
Marketing Tasks Every Brand Should Automate.
In this digital age, marketing plays a crucial role in the success of every business, whether small or large. With many emerging technologies and trends in marketing, the marketing process has become somewhat complicated and time-consuming. As a result, businesses seek ways to optimize their marketing efforts while saving time and resources. Automation is one of the ways brands can streamline their marketing tasks and improve efficiency. In this blog post, we'll share with you 100+ marketing tasks that you should automate to save time, cut costs, and boost your brand's success.
Social Media Posting –
Automating your social media posting helps you maintain a daily posting schedule, ensuring your audience stays engaged with your brand, even when you're not physically available.
Content Creation –
With the help of Artificial Intelligence (AI), you can automate various content creation tasks like blog post writing, social media captions, product descriptions, and email content to save time and resources.
Email Management –
Automating your email campaigns, such as drip campaigns, welcome series, and abandoned cart emails, helps to nurture leads and convert them into loyal customers.
Customer Relationship Management (CRM) –
Automating your CRM tasks helps you track customer interactions and behaviors, send personalized messages, and improve customer engagement.
Website Personalization –
With AI tools, you can automate website personalization by creating unique user experiences based on data such as browsing history, location, and behavior.
Chatbots –
Automating your customer service using chatbots helps improve response time, free up your customer service team's time, and provide a positive customer experience.
Monitoring Metrics –
Automating your marketing metrics, including website traffic, social media engagement rates, and email open rates, helps you identify opportunities for improvement and make data-driven decisions.
Lead Scoring –
Automation of lead scoring allows you to identify potential high-value customers and tailor your marketing strategies accordingly.
Event Promotion –
Automating event promotion tasks, such as email invites, social media posts, and attendee follow-ups, helps to streamline event planning and improve attendance rates.
Sales Pipeline Management –
Automating your sales pipeline helps improve your sales team's efficiency, track customer interactions, and ultimately close more deals.
Conclusion
The tasks that should be automated range from those that take hours a day to complete, such as website content updates and social media posting, to mundane but necessary tasks like customer support requests.
Automating these activities for your business will free up time to focus on what you do best – running your company! Don't worry if none of these sound helpful or are too difficult for you alone, don't worry.
Our team of experts helps businesses automate their marketing efforts to spend more time doing important things while still getting results with less effort. Which one of these is something you'd like help automating?